Poetic Memory: Fruit Bats (List)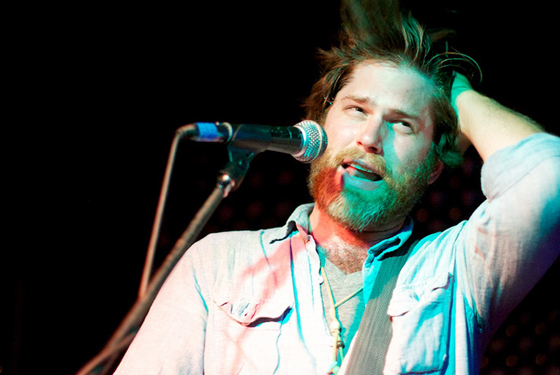 The Ruminant Band, Fruit Bats' first release in four years, is undoubtedly one of the best releases of 2009. We recently sat down with Eric to talk Poetic Memory, and he listed the records most influential to him from the 1990s. Check it out below.
My influential 1990s records, by Eric D. Johnson
The 1990s stretched from my mid-teens to mid-twenties, which is pretty fertile age territory for music consumption. It's really amazing to think of how that decade began—at least for people approximately my age—with Warrant and Skid Row at the beginning and Godspeed You Black Emperor and Beta Band at the end. It seems like an eon. And for me it really was, when you consider I started the decade in Junior High and ended it a 23-year-old. That is many dog years. Anyway, here's an incredibly incomplete list of records from the 1990s that helped me along my way.
Uncle Tupelo – Still Feel Gone (1991)
I was about two or three years late on this record. Around this time I was mostly into the Grateful Dead or Steve Miller Band or Little Feat—nothing from the 1990s. This record was utterly massive for me, bridging the gap from classic rock into modern, seemingly sophisticated stuff and getting me interested in songwriting. For me, Uncle Tupelo scratched an itch that bands like The Smiths could not. It was music for sensitive, lovelorn kids, but it had a midwestern, beer-drinking, pot-smoking sensibility that felt right in line with where I was at. Most importantly, the wildly divergent influences that Tweedy and Farrar wore on their sleeves and name-checked in interviews made me start gobbling up old country, 70s power pop, The Replacements and all the Minneapolis bands, Gram Parsons and his kin, SST bands and all kinds of pervasive shit.
Pavement – Crooked Rain, Crooked Rain (1994)
Crooked Rain also spoke to the evolving classic rock hippie in me at this time. I hadn't heard Slanted and Enchanted yet; this one brought me over to that one, but I like Crooked Rain better still. It has this ramshackle driving-across-the-desert-in-a-jalopy feel to it. Plus there's guitar solos. They're weird. This album made me force myself to relearn how to sing and play at a tender age. It made being in a band sound possible.
Guided by Voices – Bee Thousand and Alien Lanes (1994 and 1995)
I'm still pretty sure that my Tascam Porta-01 Four Track machine is the most important piece of musical equipment I ever bought. I still have it. It doesn't work anymore but I can't bring myself to toss it. These GBV albums were a lethal one-two punch back to back. Each song is brilliant, even when they're 32 seconds long and fade into hiss. It made you think that with the four track, beer, hand-rolled cigs, and a whole night, you could make a masterpiece if you tried.
Red Red Meat – Bunny Gets Paid (1995)
A few years after this record, I never would have dreamed that I'd play in a band with these guys. But when it came out, I was just a super fan kid trying to beg my way into their 21+ shows to no avail. This was anything but lo-fi, there were so many sounds happening they sounded like they were trying to break out of your speakers. I loved Jimmywine Majestic, too, but this was a massive leap forward. Sub Pop reissued this recently, and I got to contribute to the liner notes. The full circle radness of that was not lost on me.
Souled American – Notes Campfire (1996)
Their recordings always sound great because of Mr. Hamand and Mr. Deck, but Souled American is about seeing them live. I saw them play the Empty Bottle after Notes Campfire came out. It was their waning days as a full band, before they went down to a two-piece. I remember Jim O'Rourke opened solo, but never got on stage, just made crazy noises from the sound booth. Then SA came on, in all their hazy minimalist reggae/country glory. Not long after, saw them play as a duo, just Chris and Joe. It was deep-ass Chicago winter. The place was depressingly empty, but they gave us the goods anyway. Smoking weed on stage, every light in the place off, save for the "exit" sign. Then they asked the club to turn that off. It was nearly pitch black, save for a few table candles and the windows up top. There was a snowstorm outside, swirling around under the orangey city street lamps. It was more about the notes they didn't play. Not to get all weird, but it was fucking transcendent.
Beta Band – The Three EPs (1998)
This band felt like a whole new ball of wax. It was kinda like the Happy Mondays meets the Incredible String Band but with something completely new and all their own in there as well. They basically represented everything that's good and exotic and badass about the music of the British Isles. The Beta Band hit in America right around the time when I was starting to do Fruit Bats in earnest, and "The Three EP's" had a huge effect on what I was doing. It made me want to bust out Dr. Sample and an acoustic guitar and a broken Casio and bongos. All those magic tools.
The Kingsbury Manx – The Kingsbury Manx (2000)
This record came out within the first few months of 2000, so I'm considering it part of the former decade for the purposes of these ramblings. Along with Beachwood Sparks' self titled debut and Grandaddy's Sophtware Slump, this was one of the albums I was listening to while making Fruit Bats' first one, Echolocation. This record fuses mid-period pastoral Floyd with Simon and Garfunkel harmonies to create something that I was simultaneously jealous of and inspired by. Later I toured with these guys and they became my friends. I'm still a fan, though, and they're still kicking.
Potentially related content