Poetic Memory: April Smith and the Great Picture Show (List)
If I was only allowed to say one thing about April Smith, it's that she can sing. Fortunately, there's plenty of space here to gush about the Brooklyn-based belter: she also has an electric presence, she writes damn good songs, and she's pretty much destined for greatness.
When I recently saw her perform with Langhorne Slim, I wanted to find her after the show and say, "What are you doing here? You should be on Broadway." I never got a chance to have the conversation. However, she was nice enough to provide us with a wide-ranging list of influences.
If you're even remotely interested in April Smith, definitely check out her song Colors (MP3), download her  recent Daytrotter session, and catch her on tour. It'll be worth your while. Her first album, Songs For A Sinking Ship, is out February 23rd. Tour dates and her Poetic Memory are below.
Wes Anderson (director/screenwriter): I can always turn to a Wes Anderson film for inspiration or to get me out of a funk. I've watched The Royal Tenenbaums and Rushmore at least 50 times each, and they never fail to lift me up. His characters are just so brilliantly developed and irresistible. His use of vibrant colors is also something that I love. All of his soundtracks are just wonderful too…The Kinks, The Stones and those wild drum solos. If I ever make it onto a Wes Anderson film soundtrack… just take me out back and shoot me. I'll be good to go.
Thomas Ward 3 (artist): When I was on tour in December of 2008, I stopped in New Orleans on my way to Texas to visit a friend. I was walking down the street and saw this guy painting in an alleyway, with all of his work displayed on the sidewalk. It was this wild, colorful art with sometimes creepy, sometimes curious characters. It just had a marvelous, whimsical feel to it. I fell in love with everything I saw but could only buy three pieces. He's originally from New York and I don't know if he's still in New Orleans, but I'm dying to go back to see if I can find him in that alley again.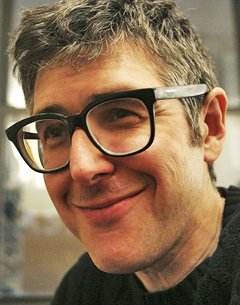 Ira Glass (radio host): I love his show, This American Life, on public radio. Glass has introduced us to some great literary talents like David Sedaris and Sarah Vowell. I really love the way Ira puts his shows together: each episode has its own theme, and I think he's really great at finding the right contributors for the right topics. When it's my turn to drive on tour, I try to coordinate it with the show so that I can listen. I think it's really important for people to support public radio programs like This American Life, because if we don't, they'll go away. Ira Glass is one of the people who is currently keeping public radio afloat, and we need to appreciate that.
Langhorne Slim (folk singer/songwriter): We're on tour with Langhorne Slim and his band right now, and it's been the most fun ever! They're just incredible musicians and a real bunch of gentlemen. They put on such a phenomenal live show every single night and the crowds are always bouncing off the walls for them. By the end of their set they've got everyone, including us, singing along with them and dancing. It's really been inspiring to tour with a band who values the audience as much as we do. Sean and the guys are just meant to be stars, and it's great to see it happening to a band that deserves it so much.
Augusten Burroughs (author): I've read most of his books and I just think he's a wonderful writer. I've never been let down by anything he's written. He had such an unusual, disturbing upbringing, yet somehow he's managed to turn his misfortune into some of the most wildly entertaining, heartfelt work I've ever read. He's on Twitter and his posts are hilarious! He's got this dry, dark sense of humor that I could just eat up. Follow him.
April Smith tour dates
Feb 20 2010 – El Rey Theatre* – Los Angeles, CA
Feb 22 2010 – Great American Music Hall* – San Francisco, CA
Feb 23 2010 – Doug Fir* – Portland, OR
Feb 24 2010 – Crocodile Café* – Seattle, WA
Feb 25 2010 – Knitting Factory* – Spokane, WA
Feb 26 2010 – The Record Exchange (In-store) – Boise, ID
Feb 27 2010 – Urban Lounge* – Salt Lake City, UT
Feb 28 2010 – Larimer Lounge* – Denver, CO
Mar 10 2010 – Mercury Lounge – New York, NY
Mar 13 2010 – Rock N Roll Hotel** – Washington, DC
Mar 15 2010 – The Earl** – Atlanta, GA
Mar 17 2010 – SXSW – Austin, TX
Mar 18 2010 – SXSW – Austin, TX
Mar 19 2010 – SXSW – Austin, TX
Mar 20 2010 – SXSW – Austin, TX
Apr 11 2010 – WVU Creative Arts Center – Morgantown, WV
* w/ Fanfarlo
** w/ Here We Go Magic
Potentially related content