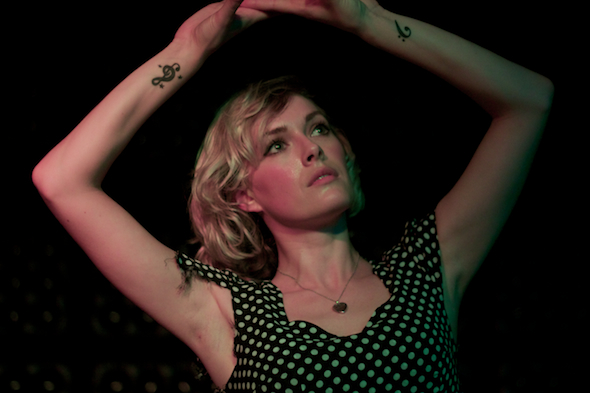 Nearly four years after the 2007 wildfires forced them to cancel a scheduled gig, The Pipettes finally returned to San Diego on Thursday. Well, at least one Pipette did. Former members RiotBecki and Rosay departed the band in 2008 and, several lineup changes later, the group is now comprised of original member/Hitchcock-blonde Gwenno Saunders and her sister Ani.
It remained to be seen if this new incarnation could pull off classics like "Pull Shapes" and "Your Kisses are Wasted on Me" with as much vigor and charm, but fortunately these new Pipettes held their own. The dynamic interplay and winking characterization of yesteryear were gone, replaced with the refreshingly sweet relationship between the Saunders sisters, whose unabashed affection for one another and sheer joy in performing proved an irresistible combination.
The Casbah gig was the last stop on an exhausting tour of the US, but the duo and their airtight backing band launched into each girl group-inspired song with admirable commitment. These new Pipettes might be different from the ones of four years ago, but as long as they continue to pour themselves into every harmony and synchronized finger wag, they'll do just fine.
Photos – The Pipettes – May 5, 2011

Video: The Pipettes – "Pull Shapes" (Live at the Casbah, May 5,2011)