Live Review & Photos: Sharon Van Etten and Tennis at the Belly Up, August 14, 2012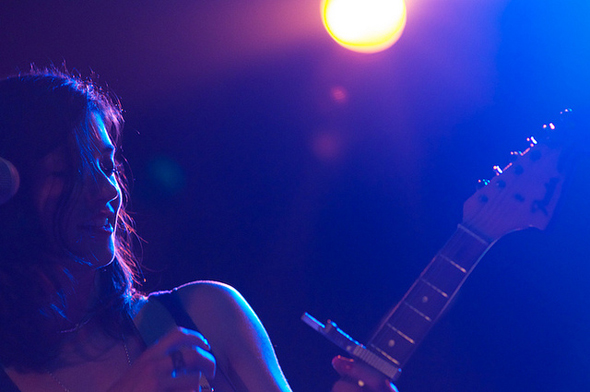 MP3: Sharon Van Etten – "Serpents"
MP3: Sharon Van Etten – "Don't Do It"
Sharon Van Etten's new album, Tramp, is so astoundingly good that expectations for her Belly Up show couldn't have been higher. Fortunately for those who came to Solana Beach on Tuesday night, the Brooklyn songwriter and her band delivered a basically perfect set.
With Tramp, Van Etten's music is richer and more accessible than ever, and her lyrics — while still frank and self-reflective — demonstrate both a creative and emotional maturity. As with her past work, Tramp finds Van Etten being open about personal and romantic tribulations. However, she also writes from a point of strength, strong-headedness, and a willingness to move on to better things.
Van Etten herself is a dichotomy. For someone whose recordings could easily be characterized as mournful, haunting, and/or anxious — and certainly autobiographical — in person, she is happy, vibrant, and at ease. Cat Power, Sharon Van Etten is not.
Van Etten kicked off her set with the slow-burning Tramp track "All I Can" and played many songs from her new album throughout the night. During the set, she frequently switched from electric to acoustic guitar, and at times also played electric autoharp and harmonium.
Onstage, the songwriter was flanked by talented multi-instrumentalists: Heather Woods Broderick (Efterklang, Horse Feathers, Loch Lomond) provided essential backing vocals and played keys and guitar, and Doug Keith played bass, guitar, and harmonium. Drummer Zeke Hutchins didn't have multiple instruments at hand but, according to Van Etten, he's as much fun to watch trying to surf as he is hitting the skins.
Another high point was when Ven Etten told the story behind Tramp single "Leonard:" "This song was originally called 'Kevin's' — but I already have a song called 'Kevin's.' So I named it after Leonard Cohen, who was listening to a lot at the time." Other set highlights included "Give Out," "Love More," and "Don't Do It," a standout track form her previous album, Epic.
The key to Van Etten's success seems to be that her songs represent crucial turning points in her life: "This song is about moving back into my parents' basement in my early 20's, and realizing that it's okay. I wouldn't be where I am today if it wasn't for their support." Or, "This song is about breaking up with someone who tried to prevent me from being who I am." For Van Etten, each song is definitely a catharsis, but it's also a lesson.
In a nice matchup, Denver duo Tennis opened. Made up of Alaina Moore and Patrick Riley, the husband-and-wife team's two albums — 2011'a Cape Dory and this year's Young & Old — are both worth repeated listens, and they put on a great live show. Set highlights included (O&B podcast staples such as) "Take Me Somewhere" and "It All Feels the Same."
Photos – Sharon Van Etten at the Belly Up
Photos – Tennis at the Belly Up
Sharon Van Etten on tour
Fri. Aug. 17 – Salt Lake City, UT @ Urban Lounge
Sat. Aug. 18 – Jackson, WY @ Caldera Festival #
Sun. Aug. 19 – Boulder, CO @ Fox Theater
Mon. Aug. 20 – Kansas City, MO @ Riot Room
Wed. Aug. 22 – Cleveland, OH @ Rock and Roll Hall of Fame and Museum
Sat. Sept. 22 – Asbury Park, NJ @ Paramount Theater (ATP's I'll Be Your Mirror)
Wed. Sept. 26 – Lisbon, Portugal @ Lux Club
Thu. Sept. 27 – Madrid, Spain @ Teatro Lara
Fri. Sept. 28 – Valencia, Spain @ El Loco
Sat. Sept. 29 – Barcelona, Spain @ La del Apolo
Mon. Oct. 1 – Paris, France @ Cafe de la Danse
Wed. Oct. 3 – Tourcoin, France @ Grand Mix
Thu. Oct. 4 – Strasbourg, France @ La Laiterie
Fri. Oct. 5 – Rouen, France @ Le 106
Sun. Oct. 7 – Cambridge, UK @ Junction 2
Mon. Oct. 8 – London, UK @ Shepherds Bush Empire
Tue. Oct. 9 – Cardiff, UK @ Glee Club
Wed. Oct. 10 – Sheffield, UK @ Queens Social Club
Thu. Oct. 25 – Washington, DC @ 930 Club %
Fri. Oct. 26 – Carrboro, NC @ Cat's Cradle %
Sat. Oct. 27 – Atlanta, GA @ Terminal West ^
Sun. Oct. 28 – Orlando, FL @ The Social %
Tue. Oct. 30 – Tallahassee, FL @ Club Downunder at FSU %
Thu. Nov. 1 – Houston, TX @ Fitzgeralds %
Fri. Nov. 2 – Austin, TX @ Fun Fun Fun Festival
Sat. Nov. 3 – Dallas, TX @ Trees %
Sun. Nov. 4 – Memphis, TN @ Hi Tone %
Mon. Nov. 5 – St. Louis, MO @ Firebird %
Wed. Nov. 7 – Chicago, IL @ Metro %
Thu. Nov. 8 – Cincinnati, OH @ Taft Ballroom %
Fri. Nov. 9 – Buffalo, NY @ Town Ballroom %
Sat. Nov. 10 – South Burlington, VT @ Higher Ground %
Sun. Nov. 11 – Boston, MA @ Paradise %
Thu. Nov. 15 – New York, NY @ Town Hall
Potentially related content