Live Review & Photos: The Tallest Man on Earth and Strand of Oaks at Birch North Park Theatre, September 2, 2012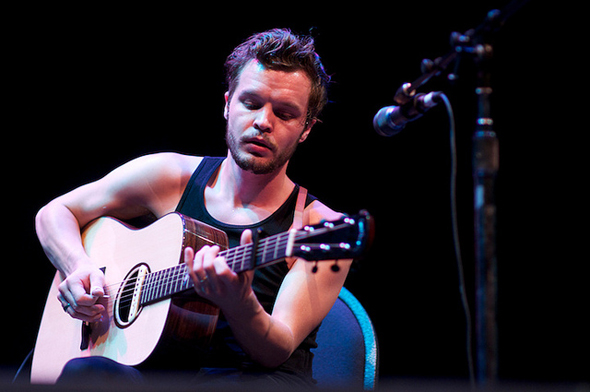 MP3: The Tallest Man on Earth – "1904"
MP3: The Tallest Man on Earth – "The Burden of Tomorrow"
Kristian Mattsson, aka The Tallest Man on Earth, treated San Diegans to an intimate show on Sunday.
The smallish Swede played several tracks from his latest album, There's No Leaving Now, as well as previous LPs like 2008's Shallow Grave and 2010 O&B favorite The Wild Hunt. Show highlights included "I Won't Be Found," "1904," and the title track from Mattsson's new album.
The kinetic, charismatic Mattson hammed it up to the crowd all evening long, at times making faces that seemed to indicate surprise, happiness, confusion, and frustration. Despite this range of emotion, Mattson remained appreciative for the entire night, repeatedly praising the audience for its silence and complimenting the city of San Diego.
Strand of Oaks opened for Mattson and played a full set of slow-burning, emotive songs. Though the vast majority of the people at Birch were there for The Tallest Man on Earth, Strand of Oaks did its best to keep the crowd happy, and largely succeeded. Between funny stories and a totally genuine demeanor, Strand of Oaks frontman Timothy Showalter charmed the sold-out crowd. The duo's music was darkly endearing, too.
Photos – The Tallest Man on Earth at Birch North Park Theatre
Strand of Oaks
Potentially related content