Live Review: David Byrne and St. Vincent at Humphreys, October 10, 2012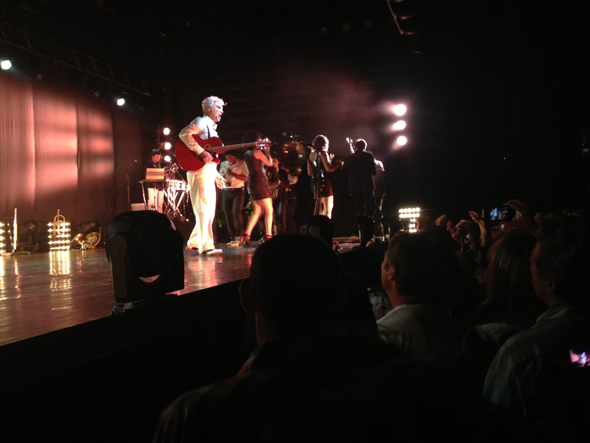 David Byrne and St. Vincent put on a brash, brassy show at Humphreys last Wednesday.
Byrne and St. Vincent (real name: Annie Clark) are touring to support their 2012 collaboration, Love This Giant, and at the Humphreys show, the two performed with a kind of glee that can only result from genuine mutual admiration. It was clear from the start that the Talking Heads founder wanted Clark to be there as much as she wanted to work with the great David Byrne.
The pairing of Byrne, who is by now a legendary figure for his quirky and thoughtful style, with Clark, a leading figure in indie rock, might seem a bit strange on paper, but the two have worked out a sound that is truly symbiotic. David Byrne has been doing his own thing for a long time now, putting out albums that reflect his unique aesthetic. And unlike most from the New Wave era, Byrne's career hasn't declined; instead, he's remained steady and continued to influence groundbreaking new artists like Dirty Projectors and St. Vincent. In a lot of ways, Annie Clark is following in similar footsteps as Byrne. With her often abstract lyrics, complex musical arrangements, and a clear desire to follow the muse, it's no wonder that Byrne sees something special in the New York-based songwriter.
In addition to her ambition, it should also be noted that Annie Clark is a virtuosic guitar player. It's not a secret, but it deserves another mention. Throughout the show, Clark played composed guitar parts, unleashed avant garde solos, and kept time with no missteps. Clark is a tremendous songwriter, and her guitar skills are yet another reason to love her. During the show, Clark sang and played her trusty electric, while Byrne switched between vocals, grandpa dancing, and acoustic guitar (for the Talking Heads songs). Neither artist exhibited signs of even the slightest ego, and the two evenly shared leadership roles in the band.
Speaking of the band, an entire piece could be written about them. For Love This Giant, Byrne and Clark chose the accompaniment of a eight-piece brass band (plus drums, keys, and Clark and Byrne on guitars). It would be an understatement to say that the range of tones — from tuba to baritone and tenor saxes, trombone, trumpet, to french horn — makes for an exhilarating musical experience. As is sometimes the case on rock albums with complex instrumentation, it's difficult to get a real feel for the power of this band on Love This Giant. However, in the live setting, it was utterly breathtaking. The unusual accompaniment works well for both Byrne and Clark; both musicians' songs translated perfectly into brass arrangements, and some of St. Vincent's composed parts sounded even better-realized than usual with the huge sound.
David Byrne and St. Vincent played a variety of songs from Love This Giant as well as from past efforts and collaborations. Highlights of the show included St. Vincent's "Save Me From Myself" rearranged for brass, "Strange Overtones" from Byrne's effort with Brian Eno, St. Vincent's "Marrow" (again with the massive brass), and, of course, Talking Heads favorites like "This Must Be the Place" and "Burning Down the House," which received long, happy ovations.
It was also a joy to witness the chemistry between Byrne and Clark onstage. During the violent guitar solo at the end of St. Vincent's song "Northern Lights," Byrne did high kicks and Clark karate chopped back at him. The band's entire performance was choreographed, as well. During "Cheerleader," from Clark's 2011 masterpiece Strange Mercy, everyone including Byrne laid flat on the stage and blasted baritone notes during the choruses.
Byrne and Clark closed the show with the Talking Heads classic "Road to Nowhere." As Byrne sang "It's all right, baby, it's all right," the crowd coalesced at the stage, cheering loudly and demanding more encores. Everyone knew the show was over, though. As Byrne, Clark, and company waved goodbye, the band kicked back into the song like at a New Orleans funeral and marched offstage, capping off a thrilling and rare evening for everyone who came out.
Potentially related content