Live Review: Lucinda Williams and Doug Pettibone at the Belly Up, January 9, 2013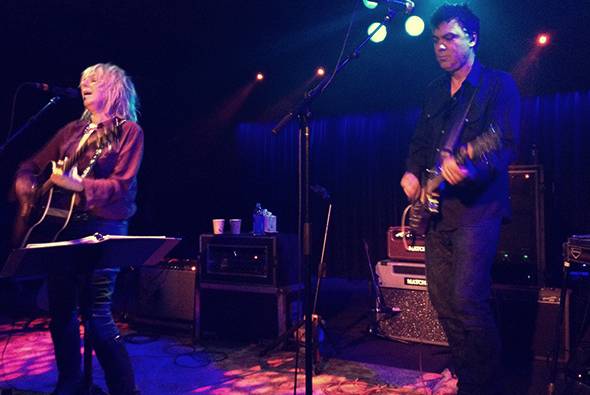 The inimitable Louisiana songwriter played a once-in-a-lifetime kind of show at the Belly Up on January 9.
Fifteen years ago, Lucinda Williams released her breakout album, the Grammy-winning Car Wheels on a Gravel Road. One of the great records of the past few decades, Car Wheels delved deeply into the mercurial songwriter's psyche, with lyrics about everything from childhood to a friend's murder to jailed boyfriends. With Car Wheels, the strong-willed daughter of a Louisiana poet proved that there's more to female songwriting than the vapid monotony that Cheryl Crow was offering at the time.
Despite an enduring respect and acclaim, Williams only moved further away from the mainstream in the years that followed. Now, at almost sixty, her once sweet voice is a gritty drawl, and her songwriting is often unconventional. Onstage, Williams demonstrates the cockiness of a Louisiana grande dame, and her intense character shines through in each song. One thing is for sure: although Williams hasn't quite topped the achievement of Car Wheels, she's still one of the greats of her generation.
Williams kicked off her set solo with "Lake Charles," from Car Wheels On a Gravel Road. Though her voice sounded a bit ragged (steaming cups of tea behind her hinted how it might feel to be her vocal chords), Williams proved from note one that she's the 100% real Louisiana deal. Williams followed with "Side of the Road," one of the greatest songs ever written about being uncontrollably lonely while also in a relationship. Longtime collaborator Doug Pettibone joined her for the electric guitar parts that help make the song so chilling. For the rest of the night, it was just Williams and Pettibone onstage, playing stripped-down renditions of her songs.
Williams followed with two new songs, as well as "The Night's Too Long," which was written by Williams but recorded by Patti Loveless ("One of the only people in Nashville with a soul"). According to Williams, Loveless' label didn't like the song's (rather tame) lyrical content, and almost prevented her from recording it.
Next, Williams played "Bus to Baton Rouge," a slow, nostalgic song about visiting her maternal grandmother's house, and then "I Don't Know How You're Livin,'" a sad song from her latest album, Blessed. During "I Don't Know How You're Livin'" an older audience member passed out and a security guard helped her walk to the back of the room. After making sure that everything was okay, Williams finished the song and told a story about a man who'd once passed out at her show: "Turns out he'd had a minor heart attack. I guess that happens at our shows sometimes." She then apologized, saying "That might've been in bad taste."
Williams also played "Sweet Side," ("This is about a boy I used to go with. He was a bad boy, but he had a sweet side. You know how it goes."), "Changed the Locks," "Ugly Truth" from Blessed, Hank Cochran's "Make the World Go Away," and several other classics, before winding down with a cover of John Denver's "This Old Guitar."
Williams recorded "This Old Guitar" as part of a John Denver tribute album set to come out in February. Though Denver has a reputation for hokeyness, the late songwriter clearly made an impression on many of today's artists. The Music Is You: A Tribute to John Denver will feature contributions from Williams, as well as My Morning Jacket, Edward Sharpe and the Magnetic Zeros, Brandi Carlile, Josh Ritter, J Mascis, Sharon Van Etten, Blind Pilot, and others. At the show, Denver's lyric, "I love to sing my songs for you," felt just right coming out of Williams' mouth.
Williams closed her show with "Nothing in Rambling," a Memphis Minnie cover, and the obstinate "Joy." About "Nothing in Rambling," Williams said "I used to play a lot of delta blues songs, and now I'm getting back into it." Even after well over an hour, the crowd was ready to learn all about it.
Potentially related content