Tobacco, also known as the mastermind behind the O&B Best of 2009 band Black Moth Super Rainbow, is an interesting fellow. From both his personality (evidenced below) and music, one gets the sense that his brain is unlike yours or mine.
We're eagerly awaiting Tobacco's March 24 show at the Casbah, and you should be too. To tide you over, here is Tobacco's Poetic Memory — a list of influences that includes everything from amusement park rides to grotesque puppets.
I've always thought the music I make is way more a product of the stuff that rotted my brain when I was a kid than any music I've listened to since. Especially these days. So these are the six things that I can pick out for sure that show up in my songs and artwork.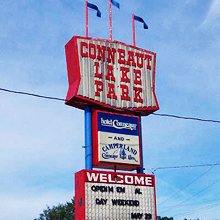 The Devil's Den: A dark ride at Conneaut that hasn't changed much since I can remember. As a kid, I went to Conneaut every summer, and this was always my favorite ride. We got a cottage just outside the back gate of the park, and got to ride for free all week so I might have 50 or 60 rides on this thing so far. This is the one with the famous wall of gum, not to be confused with the gum wall. The park is pretty busted these days and doesn't open some years, but last October, they opened for Halloween, and The Devil's Den was running. It was awesome. I've got great stories about this ride from the late '90s/early '00s, but I don't know what the statute of limitations is. Find me in like 2 years to be safe.
Scary Stories to Tell in the Dark: I never liked reading, and I still don't. My attention span is just too fucked. But I spent so much time thinking about these books. They were the perfect mix of short stories and really wildly creepy illustrations assembled by people who knew how to mess with you.
USA Network's "Up All Night" programming: It's where I saw everything! Seeing Troma Entertainment movies at, like, 11 years old was awesome. "Class of Nuke 'Em High" isn't even one of my favorite movies, but it's just one of those things that sums up everything I'm going for. Between that and "The Toxic Avenger." They also showed this really freaky "Red Riding Hood" movie from the 60s or 70s that I haven't been able to track down. But I'll never forget the way it looked, and it's probably better that I don't find it.
Baby Stinky: More or less a dead-baby puppet. They had snot all over their faces and nasty hair and stains. The guy with the knives and paraphernalia at the flea market sold them, but I was never allowed to get one. Just talking about it would make my mom and sister cry. Years later, I saw one on an episode of Roseanne. Then, just a few years back, I wandered into an off-limits Halloween display at a costume store north of Pittsburgh, and I saw one buried under a pile of hay! It wasn't marked, so I told the owner I'd pay anything for it. She didn't care, because she'd thrown it in that pile back in the early 90s. Someone actually remade them, too, but the originals are so much grosser. Anyway, it's the one thing from my childhood that I thought about for years because it was totally taboo. Not much was taboo when I was kid, but these were like the devil to my family.
Ugly Ball: When I was a kid, I always got the knock-offs, and I think I preferred them. Ugly Ball was like a fake madball that you could get if you sent in enough Bonkers candy wrappers. But they also sold them all over the boardwalk in Wildwood, New Jersey. Madballs were foam, and these were inflatable rubber. Madballs flaked apart after a rainstorm, but these fuckers lasted forever.
Trash Can Kids: The other knock-offs I loved. They were the poor man's Garbage Pail Kids. I used to get them folded up in vending machines at Hills, and maybe sometimes K-Mart. They were really bad, but at that age, it was as close as it got to something I could make myself.
Tobacco Tour Dates
Mar 18 2010 – SXSW ESCAPES V Party @ 6 East 3rd Street – Austin, Texas
Mar 19 2010 – SXSW The Onion Party @ Mohawk – Austin, Texas
Mar 19 2010 – SXSW Anticon Showcase @ Barbarella – Austin, Texas
Mar 20 2010 – SXSW Noise Problem Party @ Vice – Austin, Texas
Mar 20 2010 – SXSW Impose's Austin Imposition Party @ Longbranch Inn – Austin, Texas
Mar 24 2010 – Casbah – San Diego, California
Mar 25 2010 – Echo – Los Angeles, California
Mar 26 2010 – Detroit Bar – Costa Mesa, California
Mar 27 2010 – Bottom Of The Hill – San Francisco, California
Mar 28 2010 – WOW Hall – Eugene, Oregon
Mar 29 2010 – Holocene – Portland, Oregon
Mar 30 2010 – Chop Suey – Seattle, Washington
Apr 2 2010 – Triple Rock Social Club – Minneapolis, Minnesota
Apr 3 2010 – Empty Bottle – Chicago, Illinois
Apr 23 2010 – Bard College – Annandale, New York
Apr 24 2010 – Knitting Factory – Brooklyn, New York