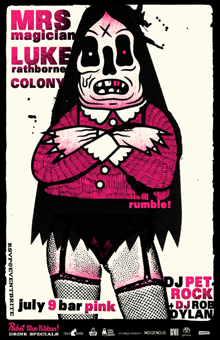 MP3: Luke Rathborne – "I Can Be One"
MP3: Luke Rathborne – "You Let Me In"
MP3: Mrs. Magician – "Tabloids"
Like clockwork, the Rumble— the monthly musical roadshow that takes place in nine U.S. cities every month — returns to San Diego's Bar Pink tomorrow.
This month's event features San Diego surf popsters Mrs. Magician, sludgy shoegazers Colony, and superb singer/songwriter Luke Rathborne. (DJs Pet Rock and Rob Dylan will spin vinyl between sets.)
We at O&B are especially excited to see Luke Rathborne, whose The Dog Years and I Can Be One EPs show a songwriter with a true artistic vision — one that (unlike many of his peers) is not overly fixated on the meaning of life, but about telling its stories.
In anticipation of the show, we asked Mr. Rathborne to provide us with a list of influences. He kindly obliged, and you may find his "10 favorite records of 1977" below.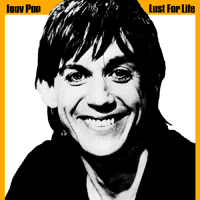 1. Low by David Bowie: This is a record with a heavy experimental bend, and is probably the best of Bowie's "Berlin Trilogy." The songs describe a certain paranoia and yearning for connection in a self-created and often plastic world. Brian Eno and producer Tony Visconti's contributions create a pretty fascinating listen that is worth your time.
2. Lust for Life by Iggy Pop: Recruiting some of the personnel Bowie was chum with, most notably the Sayles brothers on rhythm, Lust for Life is contrite, bad, good — below the surface. Totally memorable work from high brow king of low brow and vice-versa.
3. My Aim is True by Elvis Costello: I can't sum up my feelings about My Aim is True. Do you seriously not have this record? Buy this record.
4. s/t by The Clash: Ditto. See above.
5. Before and After Science by Brian Eno: This is one of Eno's most interesting records as it really owes nothing to anything happening at the time. The unified sound of this record seems like something that simply won't exist for another 5 or 7 years after this record comes out. It's a sweeping and oceanic landscape of synths and keyboards underpinning some beautiful songs about loss and regret. See "By This River" for a classic standout track.
6. Rumours by Fleetwood Mac: For some people, massive cocaine problems and breaking up with their closest lovers and co-workers translates into monumental disaster. For Fleetwood Mac, they made Rumours.
7. Foreign Affairs by Tom Waits: This is a steamy one. Dark and obscured, filled with drinks, tales of pleasure, pain, cigarette smoke, and woe.
8. Death of a Ladies Man by Leonard Cohen: Certainly the most sharply acerbic of Leonard Cohen's records, his collaboration with Phil Spector is pretty monumental. Spector's sheen and chorus haze is enough to put a chill up your spine. Two true artists doing what they do in opposition to each other. In concert and conflict. Tension. Beautiful.
9. Never Mind the Bollocks, Here's the Sex Pistols by The Sex Pistols: Obliterate culture. Monetize and counterfeit rebellion. Do it all for cash, do it all for nothing. Fantastic. Somebody do it again.
10. '77 by Talking Heads: Psycho-killer, qu'est-ce que c'est?
The Rumble San Diego is brought to you by Future Sounds, Indigenous, BMI, San Diego: Dialed In, Bedouin Vintage Collective, Friends With Both Arms, Strong Screen Printing, Event Brite, Pabst Blue Ribbon, and, as always, your friendly neighborhood Owl and Bear.