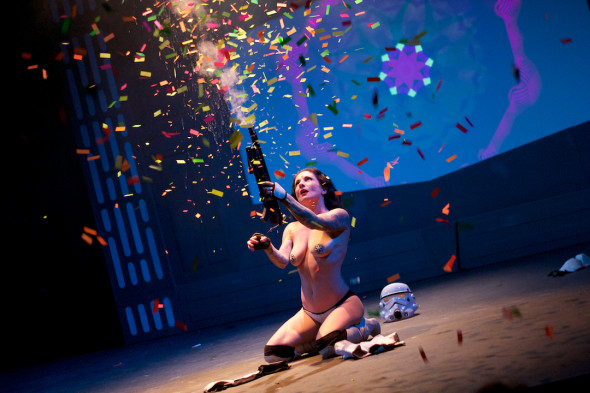 When we heard that Star Girls, a Star Wars-themed burlesque show, was coming to San Diego's own Horton Grand Theater last weekend, we were obviously intrigued. We thought our faithful readers just might be interested in something like that too, so we took one for the team and took photos of the lovely performers for you.
But before we bravely photographed all those scantily clad dancers, we spoke with Star Girls creator Courtney Cruz about the history of the show, its upcoming sequel, and the inevitable comparisons to a certain other pop culture-themed burlesque troupe.
Owl and Bear: How did Star Girls Burlesque get its start?
Courtney Cruz: I created Devil's Playground Burlesque in 2008. We started out at a small club in DTLA called the Bordello Bar. Our show quickly became known for pop culture-infused burlesque through G4 Media's coverage of our "Video Game Girls Burlesque" show in 2009 and through LA Weekly's coverage of many of our events.
When the Dark Knight movie came out, we did "A Dark Night of Burlesque" based on the Batman franchise, later following up with "Comic Book Vixens" based on a variety of comic characters. We did "Burlesque Barbies" when Mattel released its tattooed Barbie that the media was up in arms about. You name it, we did the theme. We even worked with Lionsagate's marketing company when the original Kick Ass movie came out. We didn't do characters from the movie, as that wouldn't really be appropriate given that they were children, but we did do a "Kick Ass Night of Burlesque" featuring girls who kick ass in films.
I decided to do "Star Wars Burlesque" and it debuted Jan 10 2010. We turned away a line of people around the block that night. Probably around 600 heads we couldn't fit inside the tiny 200-person venue.
Coverage from the debut of the show by LA Weekly's image of me as the stormtrooper went viral, and within 48 hours was on so many websites and blogs I couldn't keep up with the emails asking when we would be doing the show again. Press was swirling around us: offers to tour with Live Nation, you name it. It literally was on Howard Stern, Boing Boing, Perez Hilton, the list goes on and on. The image and video were viewed millions of times in a matter of two days.
Owl and Bear: How has the show changed over the years?
Courtney Cruz: Now almost seven years later, the show has grown from the original cast of six girls to twelve. It's now titled "Star Girls" instead of "Star Wars Burlesque" and we now have video projections for each performer and large-scale props and sets. It has evolved so much. It's not just a burlesque show: Contortionists, live musicians in the cast, we created an alien cantina band that opens for us, ballerinas, triple gold medalists pole athletes have joined the cast as various characters.
Owl and Bear: At least on the surface, your show bears a resemblance to SuicideGirls' Blackheart Burlesque. What type of competition exists between the two shows?
Courtney Cruz: The SuicideGirls actually had me on their radio show right after the internet fame to interview me about the show and the new genre of burlesque I had made popular overnight. It was sometime between January 2010 and March 2010. They created their pop culture burlesque show a couple of years after that interview. [Editor's note: SuicideGirls co-founder Missy Suicide did credit Cruz as an influence during her December 2013 interview with Egg Van.] They had done a regular burlesque show that toured prior to that. But the previous one to their current one was not based on pop culture. It was more of a rock 'n' roll and traditional burlesque show.
Their show is nothing like mine really except that we use a lot of the same characters. They have a choreographer who works with them and choreographs group numbers more like The Pussycat Dolls' style as well as they have some solo routines from what I have seen. While both shows are based on the art of striptease, our style is more Pop Art Theater if that makes sense.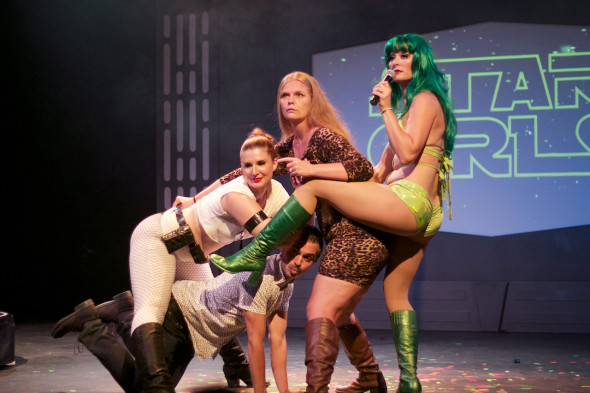 Owl and Bear: What does that mean exactly?
Courtney Cruz: We are all about production value. We build props, sets, and create custom video projections for each performer. For us it's all about an immersive environment. We even built a custom violin landspeeder for Diamondback Annie, who portrays a parody of Luke in our production. We also built an R2D2 prop that a performer pops out of, based on the old concept of burlesque shows where the girl would pop out of the cake.
I have carefully chosen and hired many different styles of performers to the cast to give a variety of performance styles throughout the 90-minute show. Our girls are all "Star Girls" as they all have many talents beyond striptease that they infuse into their performances.
Owl and Bear: What's in the future for the Star Girls show?
Courtney Cruz: We recently debuted our "Star Girls Vol. 2" show with all new characters and performances not seen in the OG production. Cirque-style roller-skating pole-dancing burlesquers, on-point ballerina warriors — there's even a Yoda that turns into "the Force," complete with custom-designed lightsaber heels. Pole dancing, guitar-playing Tusken Raiders. It's really fun and exciting to get to be so creative and work with such amazing women, and my production team really works hard to bring our creative concepts to life.
I plan on bringing the "Vol. 2" show to SD very soon after our debut September 10 at the Horton Grand Theater, as well as our other productions.
Photos: Star Wars Burlesque at the Horton Grand Theater, September 10, 2016