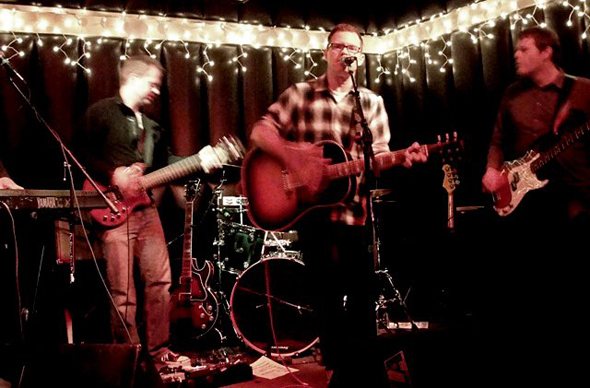 MP3s: The Midwinters – Hinges (EP)
Back in 2006, a bunch of San Diego scene regulars decided to try something new. Soon, Americana was introduced to power pop and The Midwinters began to catch on. The band — currently comprised of Paul Donovan on vocals, Chris Hobson on keys, Jeff Hoyer on guitar, Matt Cliff on bass, and Erik Ekdahl on drums — has been writing, playing shows, and recording ever since, with the excellent EP Hinges released last year (download it for free at the link above), and another scheduled for 2011.
The band will play the Tin Can Ale House tonight, April 13. If you're lucky, you might hear some of those new songs. In anticipation of the show, Paul and Matt sent us lists of their influences.
Top Musical Moments, by Paul Donovan
1. I wasn't always a singer. I started out on drums. My musical apex was in elementary school. In the middle of our rendition of "Brother Love's Traveling Salvation Show" by Neil Diamond, my dad yells over and yells, "Take a drum solo, Paul!" in front of all my schoolmates. Everything has been downhill since.
2. My previous band was a touring band and we had the opportunity to tour/open for a lot of great bands. I didn't even think Jeff Buckley knew we were opening for him — because he just sat under a darkened staircase in a red feather boa — but he did accuse us of stealing his guitar tuner. We didn't.
3. Aforementioned previous band was on tour with The Call in the late 90's. We had played for some pretty low turnouts in the Midwest but it was packed this one particular night at the Subterranean Café and Cabaret in Chicago. People were hanging from the rafters and the energy was palpable. We played a college the next night and people were sitting down quietly. Before I went out, Michael Been leaned over and said I needed to "know the crowd" and approach this differently than the other night. He said I should to draw them in first before giving it all I had. To this day, in the midst of playing, I'll gauge the room and think of Michael Been's advice.
4. Our record label once hired some guy who was trying to make a living giving bands performance and touring advice. I can't imagine that little business venture lasted too long but he offered a few gems:
Don't stand with your feet together or you look nervous and "weak."
Your first song should be a throwaway because no one is listening – but it needs to be peppy. The second song should be equally peppy but better than the first. Then, play the hit. The next curve ball is your power ballad. Pick it up again with another peppy tune.
Never say "thank you" until the applause dies down; it's rude.
Never apologize for making a mistake (unless you're lip synching on "Saturday Night Live" and a different song starts up in the middle of your performance).
Never say, "This is our last song" because people will be on their way out the door for a smoke break.
End with your anthem: i.e. Bono waiving a white truce flag in combat boots.
5. Hanging on the monitors at the Casbah for Whiskeytown's last tour was a wonderful experience. We were holding our breath hoping Ryan Adams wouldn't walk off stage — like he had the previous night — because some idiot yelled, "Play the 'Summer of 69.'"
6. I still have my Beatles Help! album and my name written in crayon spelled with a backwards "P."
Most influential albums: Emblems by Matt Pond PA, Trace by Son Volt, Revolver by The Beatles, and Mighty Joe Moon by Grant Lee Buffalo.
5 Somewhat Chronological Live-Music Experiences, by Matt Cliff
1. Big Country at the Barrowland Ballroom, New Year's Eve 1983: I wasn't at this show; I'm not Scottish and I was 13 at the time. But I had (and still have) this whole gig on VHS. Later when I was a freshman in high school I worked at a pizza place; we would throw this tape on the big screen as were cleaning up at night. The video surely only hints at the thundering mayhem of actually being there. The camera is shaking because the place is going off the hook, and the band's geeky moves are an endearing and earnest counterpoint to the huge songs. Here are "Angle Park" and "Fields of Fire" from that show. RIP Stuart.
2. Cocteau Twins at the Wiltern Theatre, December 1990: I didn't have a ticket for this show. It was the second of two nights at the Wiltern; they played with Lush. Drove up to L.A. by myself and stood around the front of the Wiltern to see if anyone had any extra tickets. A girl came over who said she worked for a record company and that she had an extra ticket: 6th row. I was blown away at how huge they sounded. Besides Robin Guthrie, their two extra guitarists — one guy wearing a calico dress, puffing a cig — stood motionless with their Jazzmasters creating this storm of sound around the tiny wailing figure at center stage. They opened their set with "Blue Bell Knoll," and the song's building tension exploded something like this.
3. Daniel Lanois at the Coach House, October 1995: This was a riveting stripped-down show at the smallish venue in San Juan Capistrano, with Lanois playing his gold Les Paul, Darryl Johnson on bass and Brian Blade on drums. After a few songs Lanois brought out Emmylou Harris and they played some songs from her just-released Wrecking Ball album. Lanois played the guitar in such a casual way, as if he were just fooling around with it. And I was amazed by Brain Blade's effortlessly intricate drumming.
4. The Sundays at Canes, November 1997: I've always loved The Sundays: Harriet Wheeler's voice and lyrics are both carefree and careworn, girlish and guarded. They had been off-duty for a few years before putting out "Static & Silence," and I jumped at the chance to see them at Canes with their original lineup. It was packed; the crowd was with them all the way. After David Gavurin's guitar crapped out partway through "Goodbye," they finished the song and Harriet said "Do you want to hear it again?" and they launched it at full power.
5. Mike Watt and the Black Gang at Club Mesa, March 1998: Watt was touring his Contemplating the Engine Room record, a layered and impressionistic album intertwining the stories of his dad's Navy days and Watt's best friend D. Boon. Watt toured this album for a year and then retired it. At Club Mesa (now Detroit Bar in Costa Mesa) his band included Nels Cline on guitar and Stephen Hodges on drums. Watt meticulously (and hilariously and poignantly) keeps online tour diaries, which makes for a strange kind of connection: seeing one of his gigs after you've been reading about them. Anyway, the place was packed, my brother almost sat in barf, and Watt and the band played their brains out, doing the record from start to finish. (Saw him at the Casbah again this March doing his new third opera.)
More recent honorable mentions: Frightened Rabbit at Casbah, May 2010; The National at Casbah, September 2007; and Midnight Oil at House of Blues Los Angeles, 2001.