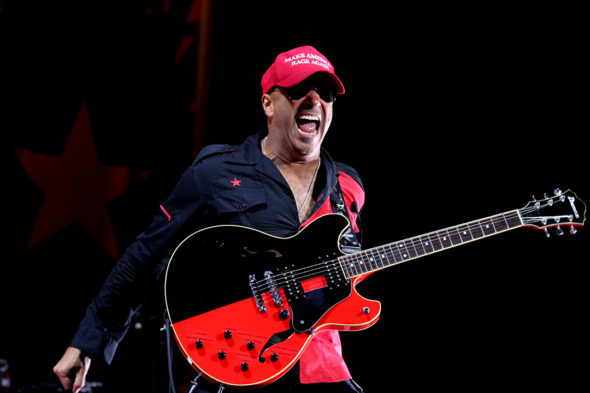 "I declare it a new age — get down for the prophets of rage."
So goes the line written and performed by Carlton Douglas Ridenhour, aka Chuck D, on the Public Enemy song "Prophets of Rage" (off their super influential album, and one of the greatest albums of all time, It Takes a Nation of Millions to Hold Us Back). Little did the world know that, 29 years later, that song would help name a band during one of America's most interesting (to put it politely) presidential elections of all time.
Tom Morello was quoted in Rolling Stone as saying "We're not a supergroup! We're an elite task force of revolutionary musicians determined to confront this mountain of election year bullshit, and confront it head-on with Marshall stacks blazing."
Prophets of Rage consist of members from Rage Against the Machine, Public Enemy, and Cypress Hill. The backbone of Prophets is three quarters of Rage Against the Machine: Tom Morello on guitar, Tim Commerford on bass, and Brad Wilk on drums. Chuck D and B-Real are co-lead vocalists, with DJ Lord spinning tunes and samples throughout the set.
Their set (or pre-set) was started by DJ Lord, who took over when Terminator X retired from Public Enemy in 1988. DJ Lord began his 15-minute solo set by playing "The Star Spangled Banner" and then spinning tunes from crowd favorites — some surprising, like Nirvana's "Smells Like Teen Spirit."
While performing the final show of their 34-show "Make American Rage Again" tour at Chula Vista's Sleep Train Amphitheatre, Prophets of Rage's veterans of socially conscious music showed no signs of slowing down or being exhausted. Chuck D and B-Real were all over the place, even coming down from the stage to do a little crowed surfing in the pit. Their first song was a cover of Public Enemy's "Prophets of Rage," and then the rest of the set felt like seeing a cover band performing Rage Against the Machine songs with some Public Enemy and Cypress Hill mixed in.
Unfortunately, RATM frontman Zach de la Rocha isn't a part of Prophets of Rage, nor did he make a surprise appearance. We were instead treated to a different special guest when B-Real introduced Sen Dog, who performed the Cypress Hill songs "How I Could Just Kill A Man" and "(Rock) Superstar."
Another refreshing moment from the night came when Tom Morello took time to thank all of the many people who worked with them on their tour and the workers at Sleep Train. He also mentioned that a portion of each ticket will be donated to a local homeless charity organization, PATH San Diego.
Kicking off the night were Wakrat, fronted by POR bassist turned lead singer Tim Commerford with Laurent Grangeon on guitar and Mathias Wakrat on drums. Next up were Awolnation, which was really disappointing. Not only was Awolnation's set a hard show to photograph (thank you very colorful lighting), but it was also hard to hear what Aaron Bruno was singing. His mic should have been turned up.
Photos: Prophets of Rage at Sleep Train Amphiteatre

Photos: Awolnation at Sleep Train Amphiteatre

Photos: Wakrat at Sleep Train Amphiteatre