Generationals' 2009 album Con Law made our Best of 2009 list. For me, it's the perfect example of everything I look for in a good pop-rock album: upbeat, catchy, light-hearted, and above all, fun. What made it exceed my expectations, however, were the varying styles from song to song. One minute I'm hearing Motown or Gary Numan, and the next I'm listening to…arena rock? Generationals' unabashed experimentation with different sounds has helped to set them apart from the rest of the indie pack.
In addition to releasing great albums, they've been gallivanting around the U.S. spreading the rock-and-roll cheer nonstop. So, needless to say, I'm extra pleased that Grant Widmer took some time out of his busy schedule to send us a list of his influences. His Poetic Memory is below.
---
Looking back, when I first got really into music around 9 or 10 years old, my sense of context was hilarious. My first mix tapes had Enigma's "Return to Innocence" right next to Nirvana's "Come As You Are," next to 4-Non-Blondes, then Bruce Springsteen's "Streets of Philadelphia," and it wasn't strange to me at all. All these people were in the same category for me. Ted (the other guy in Generationals) and I were joking the other day about how MTV led us to equate Nirvana and Aerosmith to the point that when we got the news about Kurt Cobain's suicide, we were shocked and also extremely worried that Steven Tyler might do the same thing. In hindsight, the notion of Steven Tyler killing himself just cracks me up. He is maybe the least likely person in the world to do that.
Annnyway, a few records stick out in my mind as being especially influential:
The Oranges Band – The World And Everything In It: Daniel Black and Roman Kuebler started the Oranges Band in Washington, D.C., and Baltimore about ten years ago. Daniel is originally from Baton Rouge, which is where Ted and I lived when we went to college and started playing in our first real band. When Daniel was a teenager, he was in bands in there, and The Oranges Band's success had kind of a "local boy made good" feeling. So whenever The Oranges Band came back to Baton Rouge, people would make a big deal out of it, like a homecoming party.
Initially, we had no idea who he was, but as we got swept up in the whole thing, we became really big fans. We saw them play at the Red Star in Baton Rouge, and Daniel Black was the first person I ever knew who made the idea of touring in a van and making records seem possible. And they made it seem like such a noble calling. Their whole aesthetic was also very unassuming: hard-working guys who played really great music. They knew all the coolest people in that world, too; Roman had been the bassist in Spoon, and they had toured with tons of great bands. They were very much influenced by Guided By Voices and Ted Leo, but none of that mattered to me at the time. I just liked The Oranges Band.
Over the years, we got to know Daniel and he became one of our best friends. I think he took pity on us. Eventually, he recorded our music, taught us everything we know about recording, and was just a big influence on our whole outlook. Daniel Black's encouragement convinced us to record Con Law, which we made at his home studio in D.C.
The World and Everything In It is really the masterpiece of The Oranges Band. It had all these cool influences from Nick Lowe to Dick Dale to XTC and The Jam. Every instrument was carefully chosen and recorded, and they paid a lot of attention to making the record sound the way it does. The whole thing was recorded with a lot of skill on an 8-track tape machine, and it sounds amazing. Roman's voice is one of the great contradictions, he is a big tall mean-looking guy with a very thoughtful, unhurried but direct delivery and his way of describing everything really resonates with me. His way of describing everything really resonates with me. As a lyricist, he does the perfect thing: he conjures up an image and a feeling by describing the periphery; he's never too obvious, then he leaves it alone and lets you fill in the rest in on your own. It feels like a Gondry movie, sounds dumb to describe or to write on paper, but to see it — he just communicates that feeling so perfectly. It's sort of surreal and pulls at your heartstrings, feelings of fleeting youth and blown opportunities in love and remorse.
If I could see a chart of all the records I've listened to in my life and how many times I listened to each one, I have no doubt that this record would be #1 by far. There were months in a row when I didn't turn it off. Five years later, I still play it constantly, and the fact that I came to know the people who made it is an amazing coincidence of my life. Unfortunately, the record came out on Lookout! in 2005, just as the label was starting to collapse. At that point, the label owed Green Day a lot of money in unpaid royalties, and Green Day finally decided to collect. Lookout! had to sell everything off, and all the bands — including Ted Leo — were released. A lot of the Lookout! releases around that time got short shrift and The World And Everything In It never really got the push it needed to be heard by more people, which is a shame. But it will definitely be that record that kids dig up every so often and go "Holy shit, why is this not up there with Arcade Fire's Funeral or Neutral Milk Hotel's In The Aeroplane Over the Sea?" To me, it's that good.
Genesis – Invisible Touch: I remember getting a Walkman on my 10th birthday. I have no idea why, but when my dad gave me the Walkman, he gave me a few tapes by Genesis to go with it. For a while, all I had to listen to on my Walkman was Genesis. I was a 10-year-old walking around with my Walkman, listening to Invisible Touch. Side A is "Invisible Touch," "Tonight, Tonight, Tonight," "Land of Confusion," and "In Too Deep." That's a murderer's row of songs! There are eight songs on the record and Virgin released seven of them as singles. It's a masterfully made record. I remember being in 5th grade and the teacher asked everyone to go around and say the name of their favorite lead singer. It was a lot of Axl Rose and Paula Abdul, and one Phil Collins. I remember being goofed on for that. Deservingly so. That's a tough angle for a 5th-grader to take. I need to go back and listen to Invisible Touch. In my memory, it sounds really amazing. That "briiiip" sound of the tape player adjusting to the right speed in the moment you press play is ingrained in my memory because of those songs. I hope they embed that sound in the mp3s.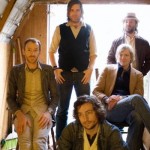 Fruit Bats – Mouthfuls: When I was 21, I moved to New York and worked for the summer as an intern at the graphic design magazine Print. Every spring, Print has a call for submissions to their Regional Design Annual, which is like their yearbook of the best graphic design. Then the submissions are judged in the summer. Most of my job revolved around helping out while the editors would go through all the submissions. They let me keep a lot of amazing things, and I learned a lot about art that summer. Stefan Sagmeister, Art Chantry. It was interesting to realize how important music is to the design world because it's one of the few industries where the clients really let designers do whatever they want. A lot of labels would submit their releases to the contest as examples of art in product design. One day, there was a big stack of Sub Pop albums at the office, and once they had been judged for the contest, they were basically up for grabs. I got a bunch of them. I remember The Creek That Drank The Cradle by Iron & Wine, and there and some others, but Mouthfuls was the best. I tried to read everything I could about Fruit Bats, but the general lack of information made them that much more interesting to me. At the time, I didn't know anyone in New York, and I spent a lot of time in my NYU dorm room listening to Mouthfuls and looking out the window.
The dB's – Stands for Decibels/Repurcussion: I worked at a bar called Red Star in Baton Rouge that had a great jukebox. I spent many long afternoons in there, waiting for people to come in for happy hour and feeding one-dollar bills into that jukebox. Stands for Decibels/Repurcussion was like a hidden gem I found; I just played it constantly. I like to think that I started a little dB's phase at Red Star. I knew who Peter Holsapple was from having read about him in a book about R.E.M., and I knew he was important as a power-pop guy, but hearing "Judy" and "Black and White" for the first time felt like someone had made something so suited to my taste at the time, it was like it was made with me in mind. I loved how the dB's were so unapologetically pop, despite coming from a completely independent background. I liked that they didn't have a huge chip on their shoulder like a lot of their contemporaries. They just sounded really great and they seemed to care only about serving a song and a sound, not a pretense. It was all about making that song as perfect as it could be. And he's from the South. The dB's and Let's Active and R.E.M. made it seem okay to be from the South and play non-Southern Rock at a time when I felt pretty alienated. Recently I had the privilege of seeing Peter Holsapple perform solo at this tiny place called the Circle Bar here in New Orleans. He played to about 30 or 40 people; at one point, he took requests from the audience. I asked him to play "Judy," and he did. He's a hero to me.
Generationals tour dates
Mar 18 – Mohawk – Austin, Texas
Mar 18 – Club DeVille – Austin, Texas
Mar 19 – HomeSlice Pizza – Austin, Texas
Mar 19 – SideBar – Austin, Texas
Mar 20 – Old. No. 2 – Laredo, Texas
Mar 23 – Spanish Moon – Baton Rouge, Louisiana
Apr 16 – Cosmic Charlie's – Lexington, Kentucky
Apr 17 – 123 Pleasant Street – Morgantown, West Virginia
Apr 18 – The Rock & Roll Hotel – Washington, DC
Apr 20 – Johnny Brenda's – Philadelphia, Pennsylvania
Apr 21 – Bowery Ballroom – New York, New York
Apr 23 – Middle East Underground – Cambridge, Massachusetts
Apr 24 – Castaway's – Ithaca, New York
Apr 25 – Bug Jar – Rochester, New York
Apr 27 – Grog Shop – Cleveland, Ohio
Apr 28 – The Pike Room – Pontiac, Michigan
Apr 30 – Lincoln Hall – Chicago, Illinois
May 1 – Turf Club – St. Paul, Minnesota
May 3 – Turner Hall – Milwaukee, Wisconsin
May 4 – Billiken Club – St. Louis, Missouri