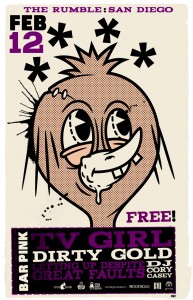 MP3: TV Girl – "If You Want It"
MP3: Dirty Gold – "California Sunrise"
MP3: Letting Up Despite Great Faults – "In Steps"
San Diego's TV Girl are new to the music scene, but they're already getting a lot of press.
Aside from generating local buzz, the lo-fi rockers recently caught the ears of Pitchfork, who called the band's Todd Rundgren-sampling single, "If You Want It," "balmy and inviting." The tastemaking music website also bestowed the ever-important "ballsy" distinction upon the track.
One listen to "If You Want It," and you'll wish TV Girl had their own show. Fortunately for you, they do: The Rumble — San Diego's monthly indie showcase at Bar Pink — kicks off its 2011 season this Saturday, and the band will be there to drag you away from the late nite boob tube. To prep yourself, download TV Girl's whole EP for free at their Bandcamp page.
In anticipation of the show, we asked the TV Girl boys what influences them. Band member Trung Ngo replied: "Being in a 'buzz band' is about one thing: Money. Whether you're haggling with some sketchy promoter throwing a chillwave festival in Finland or hawking your limited edition 7-inch through your blog, 'buzzbands' should be prepared to come into contact with lots of cold hard cash. Handling such ungodly sums of money can become tiresome, that's why it's important to keep it fresh by referencing lots of obscure slang in all your financial dealings. Here are just a few of our favorites."
Moolah: I like using this term in transactions involving dairy products. Example: "Come on, this milk has been expired for a week. How about cutting me a little break in the moolah department, if you catch my drift."
Frogskins: This term packs a good visceral punch, but can become troublesome in situations involving actual skinned amphibians. Example: "Five frogskins for five frogskins? You must think that I'm some sort of idiot!"
Shrapnel: I use this term to describe the destructive aspects of wealth. Example: "Did you hear that buzzband's new record? It's not as edgy and lo-fi as their early stuff. I guess all that shrapnel went to their heads."
Big Ones: With this one, the smaller the transaction being referred to, the better, especially if it's under a dollar. Example: "Alright, you can have a stick of gum, but now you owe me .05 big ones."
Wampum: This should be reserved for only the most serious situations. Example: "Sorry honey, but we won't be able to have presents for Christmas this year. Your father's been laid off and wampum is really tight right now."
Greenbacks: It seems like everyone is going "green" these days. You can do your part to raise "green" awareness by incorporating this term into your everyday business. Example: "Sorry Lady, I don't have any greenbacks to donate to your Save the Rainforest campaign, I had to fill up my gas tank on the way over."
Tender: Use this one on dates when you're trying to give the impression that you are a sensitive and caring human being. Example: "I'm telling you baby, these are the best wine coolers that tender can buy."
Smackers: This is good when you want to threaten someone with physical violence over financial disputes. Example: "For the last time, it's wild berry skittles on my rider, not tropical blend. How many smackers do I pay you for this again?"
Dubloons: Not a very versatile slang. It only really works in pirate themed situations. But in those rare situations, it is very effective. Example: "I bought a used talking parrot for about five dubloons at Captain Discount's Pirate Accessory Outlet and it died about five minutes after I bought it. I guess you get what you pay for."
Scrilla: This term is full of juicy ironic potential because of its "urban" flavor. Squeeze maximum irony out of it by applying it to situations that are decidedly not-urban. Example: "As soon as I get that copy-writing gig, I'm gonna finally have enough scrilla to buy those Vampire Weekend tickets."
The first Rumble of 2011 is this Saturday, February 12. The evening will also feature live music from L.A.'s Letting Up Despite Great Faults and San Diego's Dirty Gold. DJ Cory Casey will spin records between sets and Trumer Pils will be a mere $3. As always, entry is free, the bands will bring the noise, bartenders the booze, and you, well, you'll be there too.
The Rumble collective is: Future Sounds, M-Theory Music, San Diego: Dialed In, Indigenous Promotions, Bedouin Vintage, Friends With Both Arms, and your friendly friends at Owl and Bear.
Photos from past Rumbles