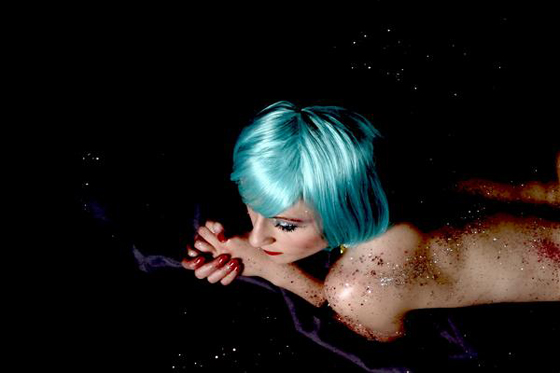 Fans of San Diego's eccentric mariachi rockers Red Pony Clock have no doubt noticed Normandie Wilson, their fetching marimba player. The self-described "DIY Burt Bacharach-influenced pop" songstress is preparing her fourth solo album, The Flower Box, for release on July 1st. You can hear the first single, "Elevator," on her MySpace page, or you can download the lovely "Goodbye" here (MP3).
It's fitting that Wilson's vocals soar like a bird over her swanky pop arrangements — she's a member of the San Diego Audubon Society, and has dedicated herself to painting every single species of bird before she dies. We're guessing that she also approves of (at least the first half of) our website's name.
Wilson will be tearing herself away from the mixing board on June 23rd for a rare performance at the E Street Cafe in Encinitas, so be sure to catch her. In the meantime, be sure to check out her Poetic Memory below, in which she lists the albums and artists that ignited her love for music.
The Carpenters: Their Christmas album is one of the first albums I distinctly remember playing and hearing on vinyl. I am originally from small-town West Virginia, so we were always a bit behind the rest of the country on things like that. My mom is not terribly into music, but she had this record and I played it over and over again. I'm more of a fan of Karen Carpenter's voice than the arrangements, but I still loved it.
The Supremes & The Temptations: I grew up in the middle of a very rural and in some ways backwards community. I was very fortunate to be raised by a family who never uttered any kind of racist comments or negative comments toward any group of people. (This was actually very unusual for where I grew up. Sadly.)
My mom had a tape of The Supremes and a tape of The Temptations and we would listen to those non-stop for long car trips. My mom knew every word to every Supremes song and even though she's not much of a singer (in her own words) we would all sing along. We never talked about The Supremes or The Temptations as "black music," and my mother, nor anyone else in my family, made any mention of the fact that it was different music than white artists were making during that time. I saw the covers and saw that they didn't look like me and my family, but we never brought it up and it was never mentioned to me or my sister. We just knew it as really good music.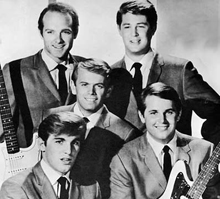 The Beach Boys: For my 16th birthday I got a Beach Boys compilation, and I listened to it non-stop. I couldn't get enough of the harmonies and the joy that was present in the recordings. And then when I was 17, my friend John said, "Oh man, if you like this record, you HAVE to get Pet Sounds. You will love it." So I bought it for my 17th birthday and I did love it. I love the instrumentation of this record, and I love the instrumental tracks on this record. It has such a consistent feel from start to finish, and hearing the vulnerability and yearning in Brian Wilson's voice totally spoke to me. I think "I Guess I Just Wasn't Made For These Times" was the first song I ever heard that made me just weep.
Forever Plaid: My dad made me listen to this musical soundtrack to Forever Plaid when we were going on a long road trip to Myrtle Beach when I was about 13 or 14 or something. I resisted, thinking there was nothing my dad could possibly know about music that I would like. But I listened to it and I loved it. They sing a lot of 1940's songs like "Shangri-La," and "Heart & Soul," in 4-part vocal harmony style. Listening to it now I think the arrangements are kind of cheesy, but growing up in the 80's and 90's, that was the most introduction to standards and the Great American Songbook that I was going to get.
The Sleepless In Seattle Soundtrack: I adored the Sleepless in Seattle soundtrack, which is another record full of standards and modern reinterpretations of standards. I discovered both newer and older artists that I liked from that record. And you know what, I'm not "cool." I'm never going to be cool, or hip. When everyone was listening to Nirvana, this is the stuff I was listening to: Standards and The Beach Boys.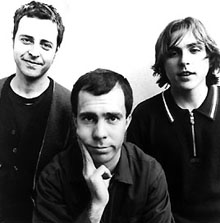 Ben Folds Five: Whatever and Ever Amen was the first record I listened to in my teenage years where I thought, "Hey… maybe I could do this." I had been playing piano for about 10 years at that point, mostly self-taught, and I was an accompanist through my middle and high school years. I got that Ben Folds Five record when I was in the 8th grade and all I wanted to do was to be able to play piano like Ben Folds.
Everyone made fun of me growing up because I didn't play a "cool" instrument like the guitar, I played a "lame" instrument like the piano. Ben Folds was the first pianist I had ever heard that made me want to rock hard on the piano. He was the first piano player I heard that convinced me that I COULD rock hard on the piano. And he was sort of my introduction to Burt Bacharach as well, because he is also a Burt Bacharach fan and gives little nods to him from time to time. Through these artists, I got more into 1960's pop.
Burt Bacharach: When I was living in New York City, a friend of mine who is a professional cellist gave me the three disc Burt Bacharach set, The Look of Love. This was when I was 22, and I only mention it because when I got that CD set, I dropped everything and listened to only that for 9 straight months. Nothing else. Not even The Beach Boys!!
My songwriting (and my entire life) was dramatically transformed by those songs. Burt Bacharach is an absolute master and I love the arrangements. Hearing the spectrum of different artists who recorded his and Hal David's work was also great for me as a songwriter because I'm very open to having other people play my songs.
Miscellaneous: I'm also a fan of Esquivel!, Elis Regina & Tom Jobim, Laura Nyro, Todd Rundgren, and a whole lot of other quirky music.