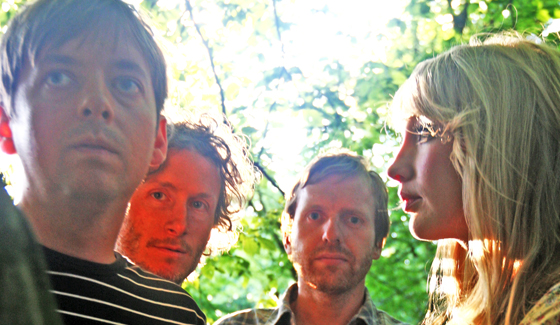 London's The Clientele are coming back to the U.S. and Canada to support their new album, Bonfires on the Heath, and The Casbah is on their itinerary.
Their songs have been described as "dreamlike suburban landscapes" with a "trippy sense of menace," and the album has been featured on year-end lists at The AV Club, Pitchfork, and elsewhere. It's good stuff, and we're pretty excited to see them play.
The Clientele's Alasdair MacLean recently provided us with a fitting list of "5 Recommended Hallucinatory Children's Books" — which is, without a doubt, the most creative Poetic Memory we've ever received. Full list of tour dates and Mr. MacLean's Poetic Memory are below.
You can pick up Bonfires at the Merge store; it's available in CD, LP, and MP3 formats. For samples of their music, check out "Harvest Time" and "I Wonder Who We Are" (MP3s).
Alasdair MacLean's 5 Recommended Hallucinatory Children's Books
This is a list of stuff that shaped my imagination as a kid in the UK. I'd be given these dusty paperback books by my mother, who was a teacher and knew about this kind of thing, so I experienced it all before I had any discernment about art, kind of before I could defend myself against it, and for better or worse it made me who I am. I think there was a terrific sense of myth and dread in children's writing of the 1960s and 1970s; these authors were trying to fit elements of very old myths into everyday settings. It made the everyday seem dreamlike, subtly dangerous. It's that hallucinatory ambience that I loved as a child and it's something I've tried to express in the music of the Clientele. These books and films eventually led me to many other types of writing and art, but I'm listing the five below because I still love them.
1. Elidor – Alan Garner (1965):
Through scenes of industrial dereliction, across light rail systems and night-lit streets, four children find a parallel world which reaches into their everyday lives, despite their efforts to bury and deny their discoveries. The hero, Roland, echoes the weary knight in Robert Browning's great poem 'Childe Roland to the Dark Tower Came', fighting against overwhelming odds as magic and dread contaminate the familiar suburban world they inhabit. This is no cosy Harry Potter-style fantasy – there's a genuine sense of claustrophobia and terror which haunted me for years as a kid.
2. "The Piper at the Gates of Dawn" (Chapter 7 of The Wind in the Willows) – Kenneth Graham (1908):
In which the previously cuddly animals all appear to get high on methedrine, author Kenneth Graham's (and Lewis Carroll's) drug of choice. Tripping furiously, they sail a boat at dawn through the quiet glades of a river. At the end of their journey they encounter a mysterious and benevolent pagan God, playing a melody on the pipes so full of loveliness that it breaks their hearts. Normal service is resumed again in Chapter 8, when the stoats and weasels attack our plucky and presumably slightly hungover heroes.
3. The Dark Is Rising – Susan Cooper (1974):
On the day before Will's 11th birthday, he finds animals are afraid of his touch. The radio buzzes and hums when he goes near it. As the seventh son of a seventh son, he has come into his inheritance as an 'old one', prophecised to keep the hidden, terrifying power of The Dark at bay between Chrismas and Twelfth Night. Lyrical, dreamlike evocations of ancient British myth meet the beauty and the mystery of the everyday in this children's classic from 1974.
4. Jonathan Miller's TV film of Alice in Wonderland by Lewis Carroll (1966):
Ravi Shankar provides the soundtrack; Anne Marie Malik is Alice, Peter Sellers is the King of Hearts. This black and white treatment of the Alice story has always stayed with me; not for the acting, or the realisation of the tale, but instead for the incredible cinematography, the eerie woods in the sunlight, the figures who move just out of sight in the leaves, beckoning us into the heart of the film's beautiful, hallucinatory ambience.
5. The Owl Service – Alan Garner (1967):
On vacation in a remote Welsh valley, posh English kids Roger and Allison begin to feel a strange compulsion to act in ways that seem alien to themselves. As local boy Gwynn befriends them, they begin a subconscious re-enactment of an ancient tragedy that takes in flowers, owls, and the hidden sentience of the valley itself. The Owl Service echoes a haunting story in the Welsh myth-cycle known as the Mabinogion; one of the first reviewers of this 1967 book noted its odd "terror-haunted beauty", and it's still an extraordinary, unsettling work of art.
The Clientele tour dates
02/21/2010 – Hoboken, NJ – Maxwell's (w/ Vetiver)
02/22/2010 – Philadelphia, PA – Johnny Brenda's
02/23/2010 – Washington, DC – Black Cat (w/ Vetiver)
02/24/2010 – Carrboro, NC – Cat's Cradle (w/ Vetiver)
02/25/2010 – Atlanta, GA – The Earl (w/ Vetiver)
02/26/2010 – Birmingham, AL – Bottletree (w/ Vetiver)
02/27/2010 – Baton Rouge, LA – Spanish Moon (w/ Vetiver)
02/28/2010 – Dallas, TX – Granada Theater (w/ Vetiver)
03/01/2010 – Austin, TX – The Mohawk (w/ Vetiver)
03/04/2010 – San Diego, CA – The Casbah
03/05/2010 – Los Angeles, CA – Spaceland
03/06/2010 – Los Angeles, CA – Spaceland
03/07/2010 – Visalia, CA – The Cellar Door
03/09/2010 – San Francisco, CA – Great American Music Hall
03/11/2010 – Portland, OR – Doug Fir
03/12/2010 – Seattle, WA – Tractor Tavern
03/15/2010 – Minneapolis, MN – Cedar Cultural Center
03/16/2010 – Madison, WI – High Noon Saloon
03/17/2010 – Chicago, IL – Lincoln Hall
03/18/2010 – Ann Arbor, MI – Blind Pig
03/19/2010 – Toronto, ON – The Legendary Horseshoe Tavern
03/20/2010 – Montreal, QC – Il Motore
03/21/2010 – Allston, MA – Great Scott
03/23/2010 – New York, NY – Bowery Ballroom