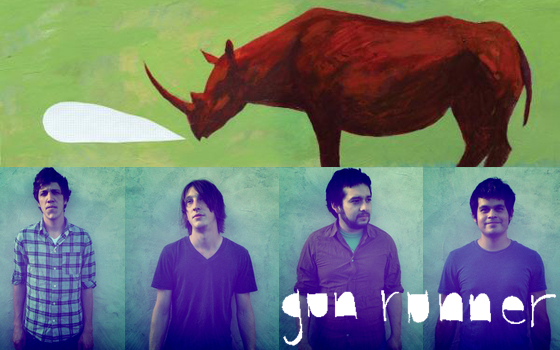 After returning to San Diego from Berklee School of Music, Sean Davenport wanted to get a band together, so he got in touch with his old friend Diego Rojano. In late 2009, Davenport and Rojano recruited local songwriter Tommy Graf (guitar) and Carlos Ortiz (drums), and they formed Gun Runner.
Since then, they've drawn from a variety of influences — including Wilco, Pavement, and Sonic Youth — to create a unique sound. This year, they released the excellent EP Bad Neighbors, an interesting work that evokes the psychedelic blues of Bob Dylan's 2007 masterpiece, Time out of Mind.
Davenport's soulful voice isn't much like Dylan's though, and that's a good thing. Tracks like "Zelda" find him repeating "I can make this all better for you," as if he's been telling it to a few beers. Meanwhile, the reverb-laden instrumentation frames his half-drunk delivery. On the nostalgic "2 out of 3," where choral intro harmonies are juxtaposed against Rojano's lilting bass and Davenport's voice, Gun Runner creates a kind of zombie R&B. It's well worth a few listens, and you can stream it on MySpace or purchase it on iTunes.
Gun Runner will open for Maren Parusel at the Belly Up Tavern on Tuesday, August 31.
Gun Runner's Poetic Memory
Sean Davenport (vocals, wurlitzer, organ, keyboards)
1. Moving to Brooklyn for three years and realizing how many bands can change your perspective on anything.
2. Going to SXSW and realizing that as hard as you think you work as a band, there are 30,000 other bands that probably work harder.
3. Meeting Philip Glass and making peace with the fact that I will never know as much about music as he does.
4. Starting Gun Runner and having half our equipment stolen (I guess we really do have Bad Neighbors).
5. Seeing Radiohead for the first time and and not being able to talk for an hour after the show — it was that good.
6. Reading one Graham Greene novel and thinking, "Crap, I'm going to have read all of these; I've been missing out."
7. Blowing up my car when I was 18: new appreciation for life and Toyota motors.
8. Watching Takashi Miike films and understanding the true meaning of shock value in films.
Diego Rojano (vocals, bass)
1. Philip K. Dick: To call Philip K. Dick a science-fiction writer is to underscore the inadequacy of the label. It would be more accurate to call him one of the most valiant psychological explorers of the 20th century.
2. Using the tiny amount of money I had saved to start a business with my brothers. Now I'm not poor and people recognize me on the streets as the owner of that funky place called Lucha Libre.
3. Caetano Veloso: Although arrested and exiled from his country, he still creates the music that is at the core of what got him in trouble.
5. Being in a band with the three people I love and respect the most.
Tommy Graf (vocals, guitar, keyboards)
1. Getting to see The Verve at Coachella Music Festival. Never thought they would get back together again. And now they broke up again. (By the way, they were brilliant.)
2. Robert M. Pirsig's Zen and the Art of Motorcycle Maintenance. This book will explain everything you need to know.
3. Others authors/poets like Orwell, Fitzgerald, Poe, and Ginsberg.
4. Traffic on the south and northbound freeways. Love it.
5. Some of our equipment was robbed from our rehearsal space. We practiced in a 6×6-foot room behind our drummer's house. Remember, there's four of us in the band. Also, one of the neighbors or somebody would throw huge rocks at the door. Oh, and the latest we could play was 9 p.m.
6. What's better than to play and make music with four of your best friends?