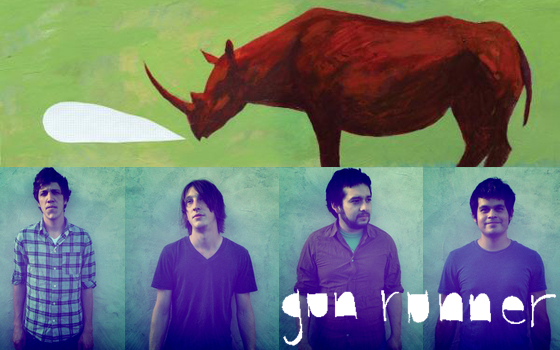 After returning to San Diego from Berklee School of Music, Sean Davenport wanted to get a band together, so he got in touch with his old friend Diego Rojano. In late 2009, Davenport and Rojano recruited local songwriter Tommy Graf (guitar) and Carlos Ortiz (drums), and they formed Gun Runner.
Since then, they've drawn from a variety of influences — including Wilco, Pavement, and Sonic Youth — to create a unique sound. This year, they released the excellent EP Bad Neighbors, an interesting work that evokes the psychedelic blues of Bob Dylan's 2007 masterpiece, Time out of Mind.
Davenport's soulful voice isn't much like Dylan's though, and that's a good thing. Tracks like "Zelda" find him repeating "I can make this all better for you," as if he's been telling it to a few beers. Meanwhile, the reverb-laden instrumentation frames his half-drunk delivery. On the nostalgic "2 out of 3," where choral intro harmonies are juxtaposed against Rojano's lilting bass and Davenport's voice, Gun Runner creates a kind of zombie R&B. It's well worth a few listens, and you can stream it on MySpace or purchase it on iTunes.
Gun Runner will open for Maren Parusel at the Belly Up Tavern on Tuesday, August 31. While you wait, check out their Poetic Memory (below).