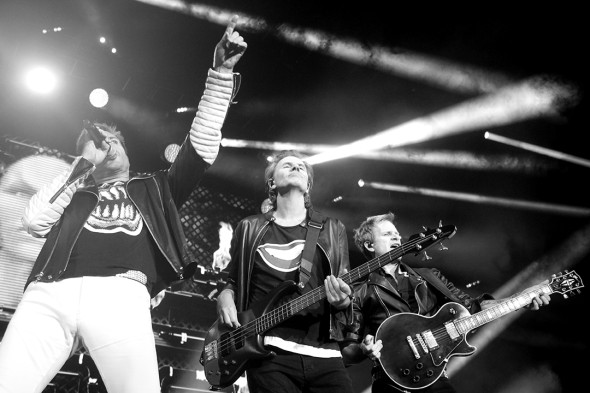 Is it better to catch a band early on their tour, when the songs are fresh and you might get lucky enough to hear some mistakes? Or is it better at the end when all the kinks are worked out?
Co-headliners Duran Duran and Chic with Niles Rodgers had started off their tour in March with last week's Chula Vista stop being near the end. Nile Rodgers has been collaborating with Duran Duran for quite a long time, and it's fitting that they're touring together. Duran Duran are touring in support of their newest album, Paper Gods, while Chic released It's About Time this summer.
Chic are one of the successful groups coming from the disco era, with songs like "Le Freak," "I Want Your Love," "Everybody Dance" and "Dance Dance Dance." Many people know Nile Rodgers more for producing Duran Duran, INXS, David Bowie, Diana Ross, and more recently, Lady Gaga, Keith Urban, and Pitbull.
One of the funkiest bands to ever exist, they put on a really good show with a surprising amount of recognizable songs. Chic's set was great, and honestly Rodgers' smile was infectious — you don't see too many singers that happy on stage.
Duran Duran were one of the biggest bands of the '80s, a time when music videos mattered and MTV actually played them. The group's current line-up still consists of Simon Le Bon, John Taylor, and Roger Taylor.
The night kicked off with the title song from Duran Duran's latest album Paper Gods followed by a flashback to their heyday with "The Wild Boys" and "Hungry Like the Wolf." It seems that more lead singers have issues with their ear pieces than any other musician on stage, and Le Bon fumbled with his for most of the first song.
Once that was fixed, they rocked on to the half-filled Sleep Train Amphitheatre with "A View to a Kill," "Come Undone," and "Notorious," during which Rodgers joined them onstage while Le Bon told of the story of Rodgers mixing that song. The encores were "Save a Prayer" and "Rio."
Photos: Duran Duran at Sleep Train Ampitheatre

Photos: Chic with Nile Rodgers at Sleep Train Ampitheatre