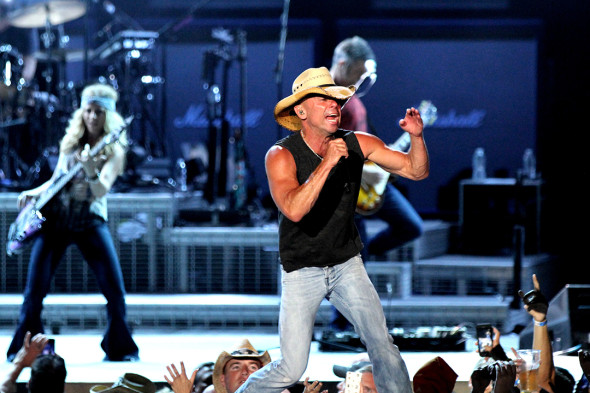 "The People's Superstar" Kenny Chesney returned to San Diego County for the first time in eight years last week. His "Spread the Love" tour stopped in Chula Vista for a performance in front a nearly sold-out Sleep Train Amphitheatre. Interesting fact: Each time he's played the Amphitheatre in Chula Vista, it's had different venue sponsor (Coors in 2005, Cricket Wireless in 2008). Perhaps his next visit will be in 2018 when the current sponsorship expires.
Kicking off his 19-song set with "Beer in Mexico," Kenny proved that he is one of the best live country acts around. He plays to the crowd very well, with plenty of high-fives given out to the lucky concertgoers in the pit. The show included fan favorites "Pirate Flag," "No Shoes, No Shirt, No Problem," "Save It for a Rainy Day" (with Old Dominion), and "Young." He also performed a cover of AC/DC's "Whole Lotta Rosie" with bassist Harmoni Kelley McCarty singing lead and ended the show with "Don't Happen Twice."
With Chesney's next album, Cosmic Hallelujah, due out this October, perhaps we will see him again next year while Sleep Train still has its name on the door.
Photos: Kenny Chesney at Sleep Train Amphitheatre

Photos: Old Dominion at Sleep Train Amphitheatre