Several weeks ago, a well-known friend of the San Diego music scene passed away at 40. Dustin Lothspeich was a musician, composer, producer, writer, and collector. He was a friend, husband, father, and son. There's a fundraiser set up to benefit his son here.
Dustin and I used to talk about the challenge of writing about music when I wrote reviews for Owl & Bear. Wanting to live in the moment of the music and fully experience a show was always at odds with writing notes, guessing the set list or at least writing down some lyrics to look it up later, and risking looking like 'that guy' typing away on their phone.
While I was at the Belly Up on April 20 enjoying the Breeders show, I thought of Dustin and our conversations about writing. In a stroke of inspiration, I decided to review the show, and in the same moment, realized how wholly unprepared I was because the show was practically over. On a whim after the encore ended and the lights turned on, I told my friends I'd be right back. I ran over to the sound producer, several feet higher than me on the stage, and politely asked, "May I please have the set list?"
If he gives me the set list, I bargained, it will be Dustin's gift, and his challenge, to write about a show after all these years without any notes. The sound producer paused to consider my request, shrugged his shoulders, then handed me the list. I responded by thanking him and telling him I wanted to write about the show. He smiled and nodded. Thanks, Dustin. No pressure.
Here's my review, from the top.
As the Breeders came on stage, my friend leaned over to me and said, "They've gotta be in their 50's right?" I responded with, "Probably, that sounds about right." "And look!" she continued, "They're still up on stage rocking out!"
We'd just been talking about aging because we usually prefer to sit off to the side at the Belly Up rather than stand in front of the stage. I looked it up and the Breeders are in their early 60's, so what they do is admirable, perhaps even athletic.
I looked at the band and what they were wearing, and I leaned over to my friend and said, "You know, I like that they all look like moms and they are in this amazing band." They were dressed in comfy jeans, t-shirts, and Kim wore a boyfriend cardigan. My friend said, "I could see them all tomorrow at Ralph's and would never know they played at the Belly Up the night before."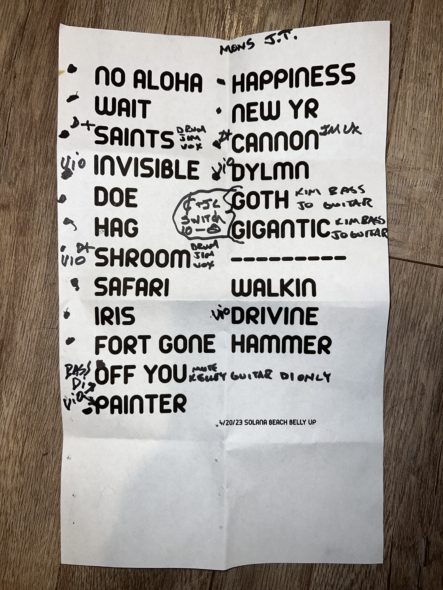 It was refreshing, and dare I say, inspiring, to see myself reflected on stage. I don't look cool enough to be in a band. I look like a mom. Though I am younger than the band, seeing them on stage as seasoned women comfortable with themselves, doing what they are passionate and talented at, gave me great hope as I enter the thick of mid-life this fall and turn 40.
40.
The age Dustin will forever be.
Heavy sigh.
Pause.
Keep writing.
For Dustin.
The Breeders opened with "No Aloha" and, to great applause, asked the audience if they liked not having an opener. Of course, we cheered, because as my friend pointed out, "We'll all be in bed by 11:00pm." Kim asked if anyone was going to Coachella, and no one claimed they were. Kim laughed. "Well, that is why we are down here." Oops.
"This is the longest we've ever stayed in San Diego and it is definitely mellow here." Her twin Kelley nodded in agreement, "It's really nice." To that the audience clapped while also wondering if it was an insult to be labeled mellow at a rock concert. Who cares — the Breeders were playing.
I later heard someone say the show started out solid but got sloppy toward the end. I disagree. The show started out how someone who is rusty (or sick with a cold) might start exercising. The Breeders just needed to warm up before they got going, because by the time they performed the last three encore songs, it was clear they'd found their groove.
There was no peak moment, no highlight, just a strong finish. The crowd was clearly grateful to be there sharing the experience. Sitting off to the side of the stage provided a great angle from which to observe the performers and fans alike; to soak up the lights, to feel the vibrations of the beat, the rocking back and forth, the tapping feet.
It's from this angle I'd like to think that Dustin is still sitting, observing, maybe comfortably aging but never peaking, sharing the experience but not quite. After all, he won't have to take notes and write about it later.
This review is a composition of a memory of the experience watching the Breeders perform, the things that were said, the things I wrote in my head as I observed, and a set list. But it's also a memory of Dustin, his kindness, his smile, his laugh, his art, his inspiration.
Thank you, Breeders. And thank you, Dustin.
There will be a benefit/tribute concert at the Casbah on May 21 in honor of Dustin Lothspeich featuring Dead Feather Moon, Oh Spirit, the Strawberry Moons, and special guests. And here's that GoFundMe link again.