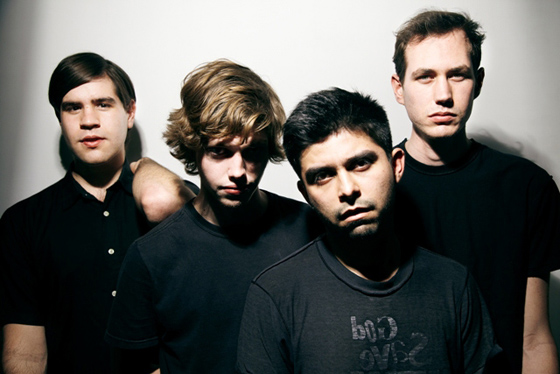 MP3: Abe Vigoda – "Throwing Shade"
MP3: Abe Vigoda – "Crush"
MP3: Wild Nothing – "Golden Haze"
MP3: Wild Nothing – "Summer Holiday"
Abe Vigoda are a band of self-described rock-and-roll fuckups from Chino, CA, but it's the good kind of dysfunction, they assure you — and they open for Wild Nothing at the Casbah tomorrow.
The group should perfectly complement Wild Nothing, the solo project of Virginian Jack Tatum. Tatum's Pitchfork Best of '10-listed debut, Gemini, is a synth-infused gem of retro guitar riffs, drum machines, and nostalgic vocals. And where Tatum's dream pop takes you to shoegazeland, Abe Vigoda will guide you down the faded graffitied alleys of L.A.
Like Wild Nothing's Tatum, Abe Vigoda's work is wistful too. Mastermind Juan Velazquez calls his music "instantly nostalgic and emotionally confusing," and the description is apt. Velazquez seems to thrive on raising eyebrows, creating music that is only similar in its raft of differences. His band's 2006 debut, Kid City, reflected his early roots in the L.A. scene — from playing at the all-ages venue The Smell, to working with scene stalwarts No Age. 2008's Skeleton took Abe Vigoda to a new level of accessibility, and last year's Crush saw a retooling of their sound yet again — hybridizing a synthed-up, reverbed aesthetic with the band's punk backbone.
One thing hasn't changed, though. Abe Vigoda continues to "pound the living shit out of the instruments" in the name of self-expression, and like seemingly every band from the Smell scene, they aren't ashamed to talk about the things they like. This works well for Owl and Bear, because it makes for the best Poetic Memory lists. Abe Vigoda's Poetic Memory is below:
In no particular order, these are things that have/are inspiring me (not just musically) – Juan Velazquez.
1. Nighty Night: This show has been recently brought to my attention by my good friend Andrew. It's a show about a sociopathic woman named Jill, played by the hilarious Julia Davis, who also wrote the show. It's excruciatingly dark, but just as funny. The premise of the show is that Jill is trying to steal a woman's (who has been diagnosed with M.S.) husband, at any cost. It has all the cringe-worthy elements of "Curb Your Enthusiasm," times 100.
2. "Rip It Up" by Orange Juice: Just such a fun band/song, perfect tempo, perfect vibe, perfect bass synth sounds.
3. Paris Is Burning: We have a song called "Throwing Shade" (MP3 above). The title and elements of our music video for the song were inspired by this amazing documentary about drag queens in New York in the mid-late 80's. It's a gorgeous film and is definitely more than about drag queens; it's about race, class, homosexuality, and last but not least, vogueing.
4. Herbie Hancock: This video of Herbie jamming with the Fairlight is pretty amazing. The Fairlight CMI synth was a very popular synth. Recently I also saw this in a Kate Bush documentary. It's exciting to see Herbie using this very influential synth, which is replicated a lot lately.
5. Storms: My Life with Lindsey Buckingham and Fleetwood Mac: This "tell-all" biography by Carol Ann Harris, who dated Lindsey from the Rumours to Mirage albums, was read by a bunch of us on our last tour with No Age. I am usually not that interested in band bios, but this one is impossible to put down. Being a fan of Fleetwood Mac and Lindsey solo, it was really fun to read about the dark times and the excess. A really fun read even if you are not a Fleetwood fan!
Abe Vigoda tour dates
Feb 1 – San Diego – Casbah
Feb 2 – Phoenix – The Rhythm Room
Feb 5 – Dallas – Parade of Flesh
Feb 7 – Oxford, MS – Proud Larrys
Feb 8 – Atlanta – Drunken Unicorn
Feb 11 – Philadelphia – First Unitarian Church of Philadelphia
Feb 13 – New York City – The Bowery Ballroom
Feb 14 – New York City – (Le) Poisson Rogue
Feb 16 – Montreal, Canada – La Sala Rossa
Feb 17 – Toronto, Canada – Wrongbar
Feb 21 – Madison, WI – University of Wisconsin Madison
Feb 24 – Denver – High Dive
Feb 25 – Salt Lake City – Kilby Court
Feb 26 – Boise, ID – Neurolux
Feb 28 – Vancouver, Canada – Biltmore Cabaret
Mar 1 – Portland – Holocene
Mar 4 – Los Angeles – The Natural History Museum of Los Angeles County
Apr 28 – Portland – Holocene