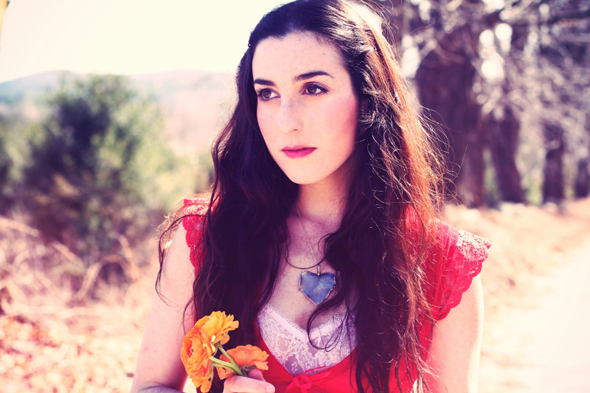 MP3: Marissa Nadler – "The Sun Always Reminds Me of You"
Stream: Marissa Nadler – "Baby I Will Leave You in the Morning"
Full album stream: Marissa Nadler – Marissa Nadler
Singer/songwriter and O&B favorite Marissa Nadler has been making dreamy, ruminating music for several years now, and each successive release is better than the last.
Nadler's previous album, Little Hells, was a haunting, multi-layered masterwork — a heartfelt and dark effort that revealed the true depth of the Boston chanteuse's abilities. Nadler's new self-titled album — her fifth, which she self-funded via Kickstarter and by selling hand-painted records and original artwork on Etsy — will be released on June 14, and it's another great accomplishment. This time around, the sometimes overlooked songwriter has been featured as one of SPIN's "Best New Artists" and NPR has called the record "gorgeous," and neither SPIN nor NPR are wrong.
Sunday, June 12 at the Casbah will be Nadler's last co-headining show with Canadians Timber Timbre. After that, she'll hit the road with Faces on Film for dates in the Midwest and East Coast. In anticipation of her Casbah show, Ms. Nadler provided us with a list of influences, which you can check out below.
Poetic Memory: Marissa Nadler
1. Six Feet Under: I was really into Six Feet Under while writing this record. I hadn't seen it when it was out and spent a good couple of months writing during the days and watching the entire five seasons at night. I would like to think the Fishers have some kind of permanent place in my heart.
2. Catherine Ribeiro and the Alpes: I'm quite obsessed with her voice as well as the arrangements of the band. 70s progressive folk band with a top notch vocalist rivaling Edith Piaf in terms of furied intensity. I can't really describe why I like this so just check out the above video and enjoy.
3. Tree of Life: I have been a longtime [Terrence] Malick fan. I just saw the new one, Tree of Life. It was incredibly beautiful and profound and strange. I've never seen memory represented so well in a movie before.
4. Gilead: The best book I have read in a long time, by Marylinne Robinson.
5. Tammy Wynette: Saddest singer in the world. I am so happy I found her.
Marissa Nadler on tour
6/12 – San Diego, CA – Casbah
7/18 – Montreal, QC – Il Motore
7/19 – Toronto – ON – Supermarket
7/21 – Chicago, IL – Schubas
7/22 – Minneapolis, MN – Turf Club
7/23 – Madison, WA – Frequency
7/25 – Pontiac, MI – Pike Room
7/27 – New York, NY – Mercury Lounge
7/28 – Philadelphia, PA – The Chapel
7/29 – Washington, DC – The Red Palace
7/30 – Brooklyn, NY – Littlefield