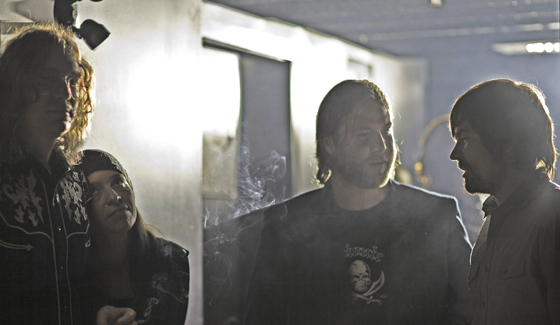 The peasants rejoiced! O&B's favorite "sonic bludgeoners" The Besnard Lakes are planning to pillage San Diego as part of their tour to support Are the Roaring Night, their new record.
The album has yet to be released (3/9 in the states, 3/8 in the United Kingdom), but since the Casbah show is in mid-May, you'll have plenty of time to prepare to effectively rock the Casbah. As part of their nearly two-month tour, the Quebec-based quartet will also play a few gigs in Austin for SxSW, as well as a slew of dates in Europe and Canada. The band will also perform either March 22nd or March 23rd on "Late Night with Jimmy Fallon".
I'd say more (because there's more to say), but their recent press release is so awesome that I'm just going to reproduce it verbatim.
If you've been paying attention to your Internet, you should have an inkling that The Besnard Lakes is going to rain down holy horse fire upon the record players of the world with their March 9th (8th in the UK) release, The Besnard Lakes Are the Roaring Night.

The Besnard Lakes shall then rule the kingdom, and they will traverse all of the climate zones of North America in a glittering night fog. Before all that, though, they will travel to Austin, TX to clink Tecates with their SXSW minions and play a roaring song.
Are the Roaring Night is now available for pre-order. If you do so, the kind folks at Jagjaguwar will provide you with an instantaneous download of the record. If you're a vinyl collector, you can also immediataneously purchase a 12″ of Are the Roaring Night's first single, "Albatross" (MP3).
The Besnard Lakes tour dates:
3/11/10 – Toronto, ON – The Horseshoe
3/12/10 – Montreal, QC – Il Motore
3/17/10 – Austin, TX (SxSW) – The Mohawk (5pm)
3/18/10 – Austin, TX (SxSW) – Stubb's (8:30pm) w/Broken Social Scene & Band of Horses
3/25/10 – Liverpool, UK – Academy
3/26/10 – Bristol, UK – Arnoifini
3/27/10 – Leeds, UK – Cockpit
3/28/10 – Glasgow, UK – Captain's Rest w/ Wolf People
3/29/10 – Manchester, UK – Dulcimer
3/30/10 – Birmingham, UK – Hare and Hounds w/Wolf People
3/31/10 – London, UK – Cargo w/Wolf People
4/01/10 – Brussells, BE – Bonatique
4/02/10 – Amsterdam, NL – Paradiso
4/03/10 – Utrecht, NL – Ekko
4/19/10 – Paris, FR – Le Point Emphmere
4/27/10 – Minneapolis, MN – 7th St. Entry
4/28/10 – Winnipeg, MT – Royal Albert Arms
4/29/10 – Regina, SK – The Exchange
4/30/10 – Saskatoon, SK – Amigo's
5/01/10 – Edmonton, AB – Pawn Shop
5/02/10 – Calgary, AB – Broken City
5/04/10 – Victoria, BC – Lucky Bar
5/05/10 – Vancouver, BC – Media Club
5/06/10 – Seattle, WA – The Crocodile
5/07/10 – Portland, OR – Mississippi Studios
5/08/10 – Eugene, OR – W.O.W. Hall
5/10/10 – San Francisco, CA – The Independent
5/12/10 – San Diego, CA – Casbah
5/13/10 – Los Angeles, CA – Troubadour
5/14/10 – Tempe, AZ – Sail Inn
5/15/10 – Tucson, AZ – Plush
5/20/10 – Dallas, TX – Granada Theater
5/24/10 – Chicago, IL
5/26/10 – Cleveland, OH – Beachland Ballroom
5/27/10 – Washington, DC – Black Cat
5/28/10 – New York, NY – Bowery Ballroom
5/29/10 – Philadelphia, PA – Johnny Brenda's