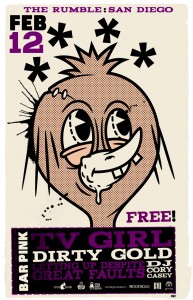 MP3: TV Girl – "If You Want It"
MP3: Dirty Gold – "California Sunrise"
MP3: Letting Up Despite Great Faults – "In Steps"
San Diego's TV Girl are new to the music scene, but they're already getting a lot of press.
Aside from generating local buzz, the lo-fi rockers recently caught the ears of Pitchfork, who called the band's Todd Rundgren-sampling single, "If You Want It," "balmy and inviting." The tastemaking music website also bestowed the ever-important "ballsy" distinction upon the track.
One listen to "If You Want It," and you'll wish TV Girl had their own show. Fortunately for you, they do: The Rumble — San Diego's monthly indie showcase at Bar Pink — kicks off its 2011 season this Saturday, and the band will be there to drag you away from the late nite boob tube. To prep yourself, download TV Girl's whole EP for free at their Bandcamp page.
In anticipation of the show, we asked the TV Girl boys what influences them. Band member Trung Ngo replied: "Being in a 'buzz band' is about one thing: Money. Whether you're haggling with some sketchy promoter throwing a chillwave festival in Finland or hawking your limited edition 7-inch through your blog, 'buzzbands' should be prepared to come into contact with lots of cold hard cash. Handling such ungodly sums of money can become tiresome, that's why it's important to keep it fresh by referencing lots of obscure slang in all your financial dealings. Here are just a few of our favorites." Continue reading…