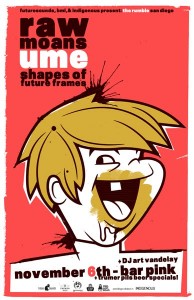 MP3: Raw Moans – "You've Got Mail" (Crypt Thing remix)
MP3: Ume – "The Conductor"
MP3: Shapes of Future Frames – "Gallows"
This Saturday at Bar Pink will be the last chance this year for San Diegans to gorge themselves on the Rumble's smorgasbord of free music.
To mark the occasion, our friends at Future Sounds have cooked up a great lineup for Rumble-goers — including Shapes of Future Frames, Ute, and Raw Moans.
First, San Diego's own Shapes of Future Frames will tantalize the crowd with their special brand of space rock. Featuring members of Scarlet Symphony and The Old In Out, Shapes of Future Frames fuse elements of prog and glam into something otherworldly and unique. The band released its debut seven-inch last year, and is currently at work on its debut full-length. For more information, check out our February 2010 interview with Shapes of Future Frames.

Band no. 2 will be the Austin-based UME. The trio's 2009 EP, Sunshower, earned them mentions in Paste, The A.V. Club, and others periodicals. Of Montreal guitarist Bryan Poole has been known to sing their praises, and the Austin Chronicle has called Sunshower "flawlessly executed."
Finally, hometown headliners Raw Moans will dazzle the crowd with their haunting sound. Their latest album, We Want It Beautiful Not Real, has been aptly described as "beautifully slow motion 'lectro-soul."
To help you avoid any awkward silences, Art Vandelay will jockey discs between sets. As always, entry is free, Trumer Pils is $3, and the bartenders are happy to accept $100 tips.
The Rumble: San Diego is brought to you by the indie-minded collective of Future Sounds, Indigenous, BMI, San Diego: Dialed In, M-Theory Records, Bedouin Vintage Collective, Trumer Pils, and your friendly friends at Owl and Bear. See you there!
Photos from last month's Rumble