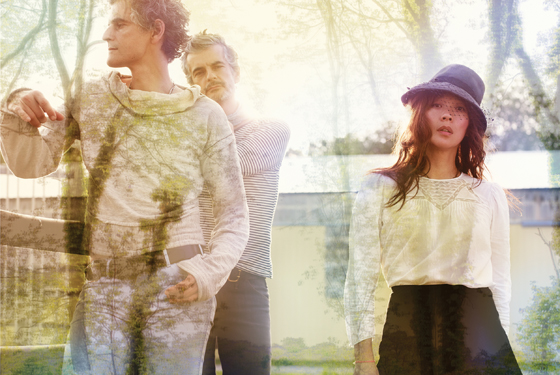 Getting your jaw stepped on by a horse doesn't do wonders for your singing career.
Just ask Kazu Makino, vocalist for New York-based post-rockers Blonde Redhead. In 2002, the Japan-born equestrian was thrown from her horse and trampled. The ensuing recovery forced the band into a hiatus, but it returned in 2004 with the excellent Misery Is A Butterfly (the video for album closer "Equus" provided a surreal depiction of the accident's aftermath).
Somehow, Blonde Redhead have emerged from the traumatic ordeal better than ever, and they just released their ninth album, Penny Sparkle, in September. Thanks to Swedish production duo Van Rivers and the Subliminal Kid — who have twisted knobs for similarly evocative bands Bat For Lashes and Fever Ray — Penny Sparkle continues Blonde Redhead's latter-day drift into dreamy, ethereal waters. This time around, they've added a placidity that fans of their noisy, early albums might never have thought them capable of. For a taste, download the lead single, "Here Sometimes" (MP3).
Whichever version of the band you prefer, you'll be excited to know that Kazu and Co. are playing the House of Blues on Sunday, November 14th. If Blonde Redhead put on half as good a show as they've done in the past, it'll still be an amazing time. Tickets can be purchased here.
Blonde Redhead tour dates:
11/14 San Diego CA House of Blues
11/15 Pomona CA Glass House
11/16 Los Angeles CA The Music Box
11/19 San Francisco CA Warfield Theatre
11/20 Portland OR Roseland Theatre
11/21 Vancouver BC Commodore Ballroom
11/26 Salt Lake City UT The Depot
11/29 Houston TX Warehouse Live Studio
11/30 Dallas TX Granada Theater
12/1 Austin TX La Zona Rosa