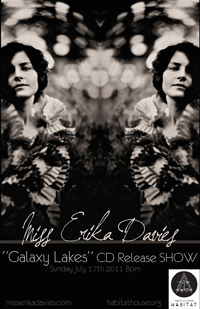 Miss Erika Davies' new album is fantastic, but that shouldn't surprise anyone. The spritely singer has been wowing audiences for years with her one-of-a-kind voice and heartfelt jazz numbers, cultivating a reputation as one of San Diego's finest musicians.
Last year, Davies' charms were beamed across the country, thanks to a hit Subaru commercial that featured her song, "I Love You, I Do." The thousands that clamored for their own copy of the charming ditty were out of luck, though — at least until now.
Thanks to a successful Kickstarter campaign, Davies has just self-released her full length-debut, entitled Galaxy Lakes. Those who have seen Davies perform will recognize many of the compositions, from the maudlin "Tumbleweed" to the bouncy "Robot Girl" to the intoxicating title track, which is one of the most affecting songs you'll hear all year.
Unsurprisingly, the record has been nominated for Best Jazz Album at the upcoming San Diego Music Awards, which will be held on August 8 at Humphreys by the Bay.
While we wait to see if Davies takes home some well deserved SDMA gold, you can order a copy of Galaxy Lakes here. Or, even better, pick up the LP in person on July 17 at the Habitat House during Davies' CD-release show, where she'll be joined by Trio Gadjo.