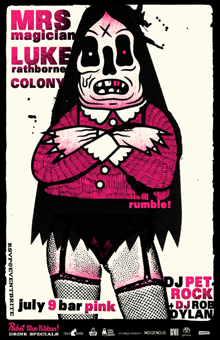 MP3: Luke Rathborne – "I Can Be One"
MP3: Luke Rathborne – "You Let Me In"
MP3: Mrs. Magician – "Tabloids"
Like clockwork, the Rumble— the monthly musical roadshow that takes place in nine U.S. cities every month — returns to San Diego's Bar Pink tomorrow.
This month's event features San Diego surf popsters Mrs. Magician, sludgy shoegazers Colony, and superb singer/songwriter Luke Rathborne. (DJs Pet Rock and Rob Dylan will spin vinyl between sets.)
We at O&B are especially excited to see Luke Rathborne, whose The Dog Years and I Can Be One EPs show a songwriter with a true artistic vision — one that (unlike many of his peers) is not overly fixated on the meaning of life, but about telling its stories.
In anticipation of the show, we asked Mr. Rathborne to provide us with a list of influences. He kindly obliged, and you may find his "10 favorite records of 1977" below. Continue reading…