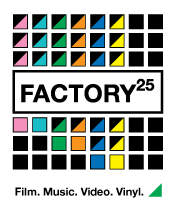 Factory 25, a new independent film and vinyl label based in Brooklyn, specializes in packaging indie DVDs with limited edition vinyl, posters and other goodies.
They're about to release a slew of new stuff on October 27, including the films High School Record, All The Way From Michigan Not Mars, and You Weren't There. The latter two releases come with special edition vinyls.
Out already (September 29) is Damon and Naomi's 1001 Nights, a comprehensive anthology of videos and live performances from 2001 through 2009.
The folks at Factory 25 are rightly excited about these films, some of which feature indie music luminaries like No Age, Minutemen, Rosie Thomas, and Sufjan Stevens. More info and trailers after the jump. Continue reading →