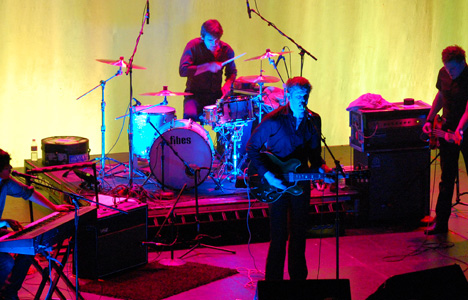 photo by CharlieChu
It was night 2 of a 3 concert stint at the Henry Fonda Theater, a moderately sized general admission venue with a seated balcony. Needless to say, this was a superb venue to see Spoon.
Black Joe Lewis from Austin, TX opened the show. They introduced themselves as a blues band, but they quickly reminded me of what the R&B section of music stores should be stocked with. Which makes me ponder: when did R&B become categorized less like Sam & Dave and more like R. "Trapped in the Closet" Kelly? Black Joe Lewis' up-tempo rhythm and blues had the crowd into it by 3 songs deep. Their horn section (composed of alto sax, tenor sax, and trumpet) was certainly a rare indulgence, while J.J. Lewis' vocal pipes were reminiscent of Otis Redding & James Brown. Overall they received a rousing reception from the crowd between each song, and in LA that doesn't appear too frequently since the majority of crowds refrain from arriving on-time.
After 20 minutes of tracks of The Cure playing on the monitors, the curtain raised to find Spoon leadman Britt Daniel with his back to the crowd. Immediately he turned to the mic and started into "Don't You Evah." Their backdrop was a simple cloth backlit with alternating soft toned light.
For a few songs, the horn section from Black Joe Lewis joined Spoon. After the soundboard brought the horns' mics to an audible level, the performance of "Underdog" was spectacular (definitely a highlight of the show). In recent interviews, Spoon had commented that some of their sound from Gagagaga was reminiscent of a haunted house. This was more than apparent in the chilling "Ghost of You Lingers," for which Britt was guitar-less until about midway, when he picked up the bass. "I Turn My Camera On" was the only song that disappointed. It seemed a bit raw and unpolished, but nonetheless the show was superb. Spoon is one of those rare bands that does not require flashing lights or gimmicks in order to sustain the audience's interest and enthusiasm. If Spoon is coming to your town, jump at the chance to see them in an intimate setting before they begin to play more overcrowded theaters.
Songs I can recall from the setlist (in no particular order):
Don't You Evah
You Got Yr Cherry Bomb
Don't Make Me A Target
Ghost of You A Lingers
Underdog
Lines In The Suit
Black Like Me
Beast & Dragon Adorned
I Turn My Camera On
Mathematical Mind
Small Stakes
Jonathan Fisk
Anything You Want
Rhthm & Soul