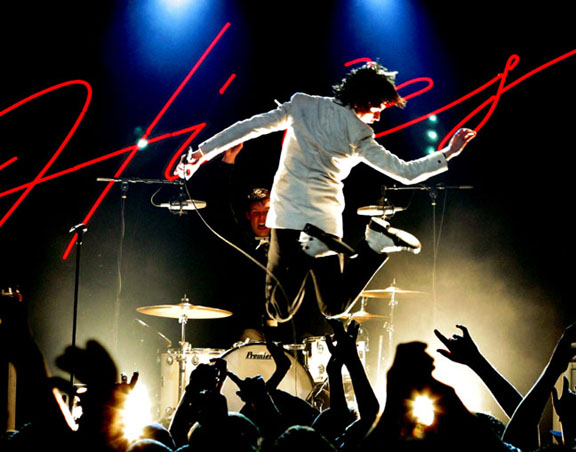 VHS or Beta, Feist, and the Hives played the 94.9 Anniversary Bash at 4th & B in downtown San Diego.
VHS or Beta opened but weren't really that enjoyable for me. They definitely play with a strong Cure influence, but they weren't too entertaining, so I won't touch on them anymore.
Feist's strong guitar work was a pleasant surprise. Too bad the majority of the crowd didn't appreciate her superb performance, because they were too busy talking. Idiots. I really enjoyed her the opener, "When I Was A Young Girl," from her 2004 release Let It Die. After Feist's set, the crowd really cleared out (WTF?). Did they forget that the Hives were next? I guess they just wanted to hear ipod commercial songs.
Is there a greater front man in modern rock than the cocky Pelle Almqvist? He was all over and sometimes off the stage, constantly proclaiming the Hives' superiority. The band hardly ever took breaks and they rocked through many songs including "Hate To Say I Told You So," "Diabolic Scheme," "Walk Idiot Walk," "Tick Tick Boom," "Try It Again," and "It Won't Be Long" (my personal favorite off the new album). Overall, the Hives put on an entertaining, high energy show. Here's proof from that night:
On a side note, it seemed like the #1 hobby of the Hives is spitting on the stage. I feel bad for whomever had to clean all that up.