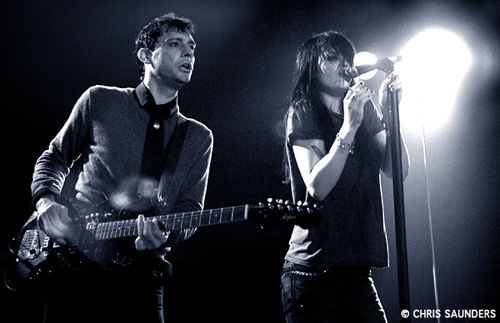 A fever descended upon the sold-out Casbah as the Kills took the stage, seducing the crowd with their unique blend of blues, punk, and sex. The band drew mainly from their new album Midnight Boom, tearing into renditions of "U.R.A. Fever," "Tape Song," and "Sour Cherry," but still touched upon old favorites like "Fried My Little Brains," "Wait," and "Love Is A Deserter."
Backed only by a drum machine, Alison "VV" Mosshart and Jamie "Hotel" Hince shared vocal duties, with Hotel playing the lion's share of guitar. The songs dripped with danger and excitement, such as on "No Wow," where the pair used their palpable on-stage chemistry to carry the song from its ominous, simmering beginning to an explosive conclusion that was equal parts sexual tension and musical release.
As much as the pair's famed sexual bravado commanded the crowd's attention, the real star of the show was Hotel's guitar work. He relentlessly blasted the crowd with his buzz saw blues, simultaneously finger-picking bass and lead parts, all while wringing machine-gun thuds, roars, and squeals from his guitar.
The Kills made for an unstoppable duo: VV strutted about the stage, her vocals purring and scratching at the audience, while Hotel supplied a tornado of crunchy guitar and a hurricane-o of vocal counterpoint. One of the highlights of the show was "Goodnight Bad Morning"—almost a throwaway in its Midnight Boom version—that became a fully realized epic on stage as VV's passionate delivery gave way to a furious tremolo whirlwind from Hotel's guitar.
The band ended their performance with a blistering cover of Captain Beefheart's "Dropout Boogie," combining the lurching intensity of the Beefheart original with the rawness of their own trademark aesthetic. The song eventually mutated into yet another standout moment for Hotel who, playing his guitar with a beer bottle, unleashed a stunning barrage of screeches and wails onto the thrilled audience. It was a moment that, like much of their performance, combined virtuosity with chaos, producing something beautiful to behold but dangerous to the touch.