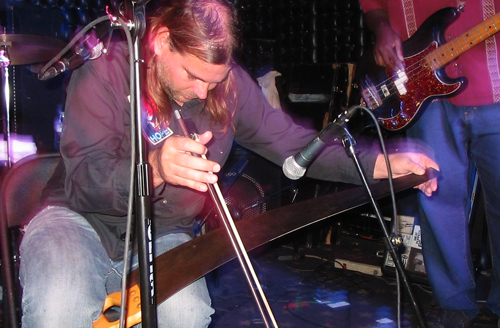 For a band that has spent the last ten years plumbing the depths of human misery, The Black Heart Procession sure do put on a fun live show. Playing to an eager crowd last Friday, the San Diego natives drew from various eras in their impressive catalog to assemble a set that was both a great introduction for newcomers and a satisfying playlist for the devoted.
Opening with "Release My Heart" from their 1998 debut album One, the band injected each of their songs with an energy not present in their recorded versions, but without sacrificing any of their power or poignancy. Highlights included "Not Just Words" and "The Letter", from the band's most recent album The Spell, the beautiful "Blue Tears" and "It's A Crime I Never Told You About The Diamonds In Your Eyes", from 1999's Two, and the exotic "Tropics of Love", off their classic 2002 album Amore Del Tropico.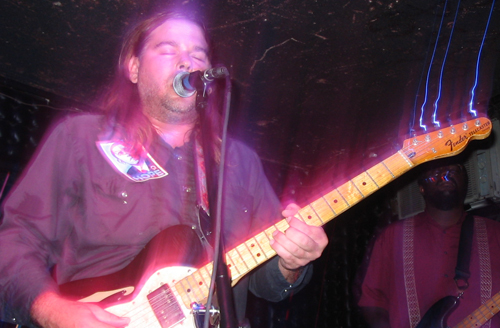 Lead by guitarist/saw-player Pall Jenkins, the five-piece seemed to have a great time playing, often breaking into smiles that betrayed the seriousness of their material. Wearing two Obama stickers on his shirt—before using one of them to secure his hair—Jenkins joked around with his band and the audience so much that an outsider might never guess that the man is a local legend. Drummer Jason Hooper brought a breezy charm to both his playing and his stage demeanor, single-handedly doubling the band's charisma. Keyboardist Tobias Nathaniel demonstrated himself to be a vital component of the band, with his black key progressions and thunderous dirges providing the band's lifeblood.
Ending their set with, of all things, a cover of "You Got Lucky" by Tom Petty, The Black Heart Procession gave an immensely satisfying performance. And while the band's despondent sound may never win them the national acclaim they deserve, it only makes them more special to San Diegans, for whom the band remains a well-kept, thrilling, and dark secret.