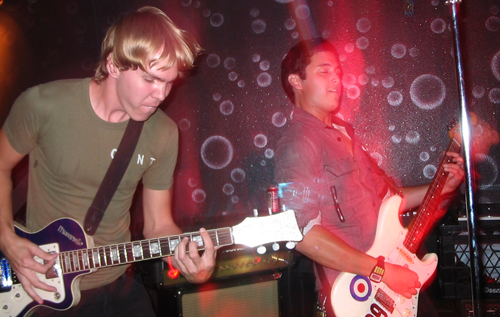 A large crowd of power-pop fans filled Bar Pink on Saturday to celebrate the release of The Powerchords' red-hot full-length …Think I'm Gonna.
Following a typically energetic set from new-wave punk band The Atoms, The Powerchords treated the crowd to live renditions of most of their new album's tracks. Opening with "She's A Virgin", the band quickly tore through song after catchy song, barely stopping long enough to catch their breath. Songs like "Throwing Up" and "Bad Guys" sounded just as polished and kinetic as their album versions, and it's doubtful that the insanely infectious "Tia Carrere" will wear out its welcome any time soon.
Despite having just played a set earlier that day at the Adams Avenue Street Fair—drummer Austin Ballow, subbing in for the Atoms at both events, was actually on his fourth set of the night—The Powerchords blazed through their songs with energy to spare. My only disappointment was that they don't seem to be putting as much emphasis on vocals. This is hopefully a temporary thing, since their two- and three-part harmonies are one of the group's most distinctive strengths.
Luckily, there was no shortage of harmony on set highlights "Unattached Strings", "Dream Girl", and "Dummy", which the band played with their signature charm and intensity. They finally ended with a cover of "Fan Mail" by The Dickies, and, judging by the crowd's reaction to their set, The Powerchords will be receiving lots of fan mail of their own in the future.
Stream: "Tia Carrere"
[audio:powerchords-tiacarrere.mp3]