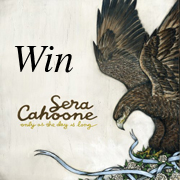 Do you want this brand new copy of Sera Cahoone's folksy sophomore effort Only as the Day is Long, free of charge?
Well, you may be in luck! All you have to do is email admin@owlandbear.com and be the first lucky entrant who sends his or her name and mailing address.
That's right, the first person to email us will win the CD. This contest won't expire until someone does so!
We'll move on to the second entrant, and so forth, if you fail to provide a name and mailing address. We'll also send a reply to you that says "FAIL!" and not "Congratulations!"
Update: The Sera Cahoone CD has been claimed. Thanks for playing!