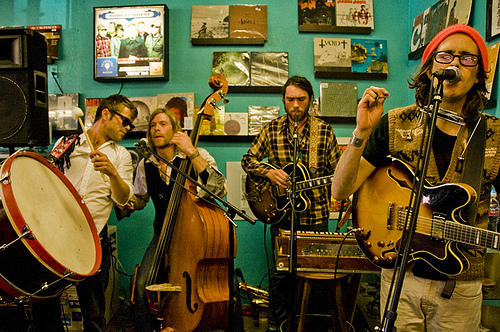 There are worse fates than being compared to Jeff Mangum. As the frontman for Neutral Milk Hotel, Mangum spearheaded one of the most influential and revered bands in indie rock history, finally creating an album—1998's In An Aeroplane Over The Sea—that was so perfectly realized even Mangum himself never dared attempt a follow up. So, nearly a decade later, after everyone had given up hope, a guy named Elvis Perkins quietly stepped up to the plate and did the job for him.
Perkins' 2007 debut, Ash Wednesday, established him as a brilliant artist with a penchant for crafting songs of poignant sadness and profound beauty. The son of Anthony Perkins (Psycho's Norman Bates) and Berry Berenson, Perkins channeled his much-publicized real life tragedies into a soul-baring masterpiece of catharsis. For his newly-released sophomore album, he added a backing band and adopted the moniker Elvis Perkins In Dearland.
And somehow, local record shop M-Theory Music was able to lure the band into their store for an exclusive, free performance on a beautifully sunny San Diego afternoon.

With his Native American vest and long, scraggly hair dangling from beneath his red beanie, Perkins seemed intent on obscuring his resemblance to his movie-star father. He possessed a reticence that set him apart from his similarly shaggy but more jovial band mates. The confined space of the record store was packed tightly with eager spectators, and both band and crowd alike seemed in high spirits.
Opening with "Shampoo", the first track from Elvis Perkins In Dearland, Perkins quickly enveloped the crowd in his heartfelt, quivering vocals. With his 80s-era sunglasses and giant drum strapped to his chest, percussionist Nick Kinsey readily deflected the spotlight away from the shy singer. Joyously dancing around and chatting with the crowd, Kinsey made the most out of his makeshift setup, which included two cymbals haphazardly placed on a stool and a yellow plastic flute with a tiny red bird inside.
Harmonium player Wyndham Boylan-Garnett switched to guitar for the upbeat "Hey", joining Kinsey and bassist Brigham Brough in a round of raucous shouting and Mexican tongue rolling. The band cooled things down for their interpretation of the traditional "Crucifixion Song", backing Perkins' refrain of "They crucified the savior / Nailed him to the cross" with barbershop harmonies and epileptic interludes that injected the gospel story with a dose of hyperactive country twang.
Boylan-Garnett returned to his harmonium and Brough picked up the saxophone for the hushed "How's Forever Been Baby", a restrained song that would feel more at home amid the introspection of Ash Wednesday than it does on the energetic In Dearland. The subdued instrumentals allowed Perkins' vocals to shine, and he punctuated his delivery of the song's titular inquiry with mournful flourishes from his harmonica.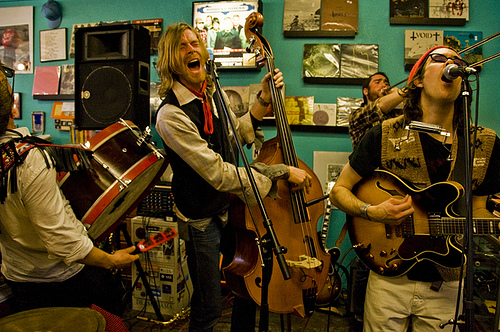 The rapid chord changes of "Send My Fond Regards To Lonelyville" contained more of In Dearland's characteristically country sound before pivoting into a trombone-fueled interlude that was pure Neutral Milk Hotel. The band ended their set with "Doomsday", perhaps the finest encapsulation of the band's sound and one of their album's highlights. The thumping drums and slurred trombone lines gave the song a drunken, funereal tone before giving way to its infectiously shouted singalong finale.
In-store performances tend to be shorter than regular shows, but having the chance to see such talented musicians in such cozy and informal settings is a rare and special thing. The band played only six songs—a tantalizing tease given the fact that this was their only San Diego appearance—but the brevity of their show was the sole complaint to be had. The addition of the Dearland band is a wise move on Perkins' part, allowing him to sidestep the usual singer-songwriter trappings and keep the material fresh. At times, this can overshadow the intimacy of Perkins' songwriting, but the group seems on its way to striking a satisfying balance. That's probably something Neutral Milk Hotel had to learn too.
Stream: "Doomsday" from Elvis Perkins In Dearland
[audio:epid-doomsday.mp3]