Cloud Cult have worked hard to get where they are. Their early albums contained moments of brilliance, but were weighed down by a lack of focus, frustrating silence, and cacophonous filler. After releasing six promising but inconsistent albums, the band finally struck gold with 2007's The Meaning of 8, which balanced quirkiness and catharsis without succumbing to the ADD-addled wanderings of previous efforts.
They further refined this aesthetic on 2008's Feel Good Ghosts (Tea-Partying Through Tornadoes), and in doing so crafted one of the year's finest albums. With the one-two punch of those records, Cloud Cult had ascended to a new creative peak; naturally, the prospect of seeing them live during this renaissance promised to be thrilling and memorable. Why, then, did their May 14th performance at the Casbah prove disappointing?
Cloud Cult performances are nothing if not theatrical. They crank up their smoke machine to eleven, set the laser lighting to stun, and even feature live painting, courtesy of Connie Minowa and trumpeter Scott West. Singer/guitarist Craig Minowa—wearing a homemade mask atop his head that maintained eye-contact with the crowd whenever he looked down—introduced the band in his thick Minnesota accent and conveyed a twitchy shyness that was equal parts Jeremy Davies and Elliott Smith. Donning a headset that made him sound like the lovechild of Kanye West and WALL*E, Minowa launched into Feel Good Ghosts' powerful closer, "Love You All".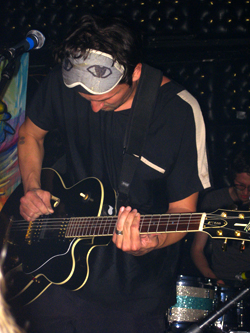 The band adhered to the new album for most of their set, ably recreating highlights like "No One Said It Would Be Easy" and "When Water Comes to Life", though stunners like "May Your Hearts Stay Strong" and "The Will Of A Volcano" were sorely missed. Bassist Shawn Neary's backup vocals uncannily approximated those of Minowa's double-vox recordings, and Sarah Young and Shannon Frid's respective cello and violin lent the songs a stately and cinematic air. The band did revisit The Meaning of 8 to perform choice tracks "Chain Reaction", "Chemicals Collide", and "Take Your Medicine", and they even brushed off the dreamy "That Man Jumped Out The Window", from 2005's Advice from the Happy Hippopotamus.
Though Cloud Cult capably recreated great songs from great albums, the overall performance amounted to less than the sum of its parts. Craig Minowa's unique and impressionistic lyrics were rendered largely unintelligible by the Casbah's cumbersome mix, robbing the songs of their poetic strength. Furthermore, the set list, which consisted solely of the band's hardest-hitting songs, left no room for subtlety. The repetitive anthem-only lineup diminished the emotional impact of each subsequent song and frayed the seams of their quiet-to-LOUD formula. Even the gorgeous "Pretty Voice" felt flaccid after a half-dozen other emotional epics had already tugged the heartstrings into numb oblivion.
Shortcomings notwithstanding, the performance was still enjoyable. Less formulaic songs, such as their "Everybody Here Is A Cloud" encore, helped to bring a refreshing change of pace to the proceedings. The live painting by Connie—Craig's perkily pregnant wife—and Scott, which initially seemed like an indulgent gimmick, proved to be a fascinating addition to the show. Scott West's painting of a wind-blown redhead in particular drew the admiration of the crowd and, after the set, was auctioned off for a tidy sum.
Despite these highlights, the feeling of disappointment remained. The band had skillfully performed plenty of terrific songs, but what detracted from this was a sense of obviousness: the emotional catharsis of the songs seemed manipulative, not earned. Such are the trappings of anthem rock, which needs to be tempered by moments of levity and subtlety in order to be effective. It seems a shame to fault a band for making too much of an effort, especially one as engaging and unique as Cloud Cult. Hopefully next time they won't try so hard.