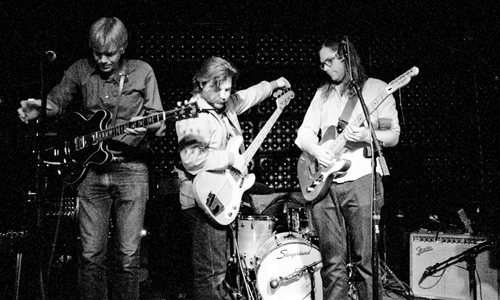 It's been 4 years since Fruit Bats put out a new record (not including an excellent tour-only LP), so it's with open arms that we embrace (how else do you do it?) the latest offering from Eric D. Johnson and Co. The Ruminant Band will be released on August 4 in both CD and gatefold LP fashion.
Excellently, if you pre-order through Sub Pop on or before the release date, the 'Pop will shave $2 off the 'Bats album's "already well-priced price." SubPop also promises to enclose trinkets and doodads and "whatever else they can find" to spruce up the package, but that's not news; they've always been good for that. Consider it pre-ordered, SubPop. MP3 and tourdates after the jump.
Here's a prewritten blurb for you:
Over the course of three records, the last two on Sub Pop (2003's Mouthfuls and 2005's Spelled in Bones), Eric D. Johnson's Fruit Bats have looked for ways to file down the cynical edge of modern life and found many. Using bright melodies, defiantly major-key chord structures, natural imagery mixed with the occasional blazing insight and tender observation, the Fruit Bats have never shied away from darkness, but more uncommon in this day and age, they've refused to shy away from light. With The Ruminant Band, this tradition continues in characteristically rich and involving fashion. From the barn-floor stomp of "The Hobo Girl" and the Fleetwood Mac-esque shimmy of the title track to the propulsive yet spacious '70s country-rock jam "Tegucigalpa" and the parlor piano soft-shoe of "Flamingo," The Ruminant Band makes good on Johnson's recent message board promise: "We are going to choogle for you." The songwriting and production on The Ruminant Band mark a further crystallization of Johnson's own melodic instincts and overall vision over the past near-decade, abetted by brothers-in-arms who know both bluster and restraint.
Might I just add that The Ruminant Band is damn good, too. So as to not step on anyone's toes by posting something as-yet unreleased, here's an MP3 from their aforementioned tour LP: an alternate version of the "Earthquake of '73".
Tour:
Aug 18 Lucky Bar, Vancouver, Canada
Aug 19 Media Club, Vancouver, Canada
Aug 20 Crocodile Cafe, Seattle, WA
Aug 21 Mural AMphitheater, Seattle, WA
Aug 22 Doug Fir Lounge, Portland, OR
Aug 22 Music Millennium, Portland, OR
Aug 24 Gunlach-Bundshu Winery, Sonoma, CA
Aug 25 Independent, San Francisco, CA
Aug 26 Spaceland, Los Angeles, CA
Aug 27 Plush, Tucson, AZ
Aug 28 Corazon, Sante Fe, NM
Aug 29 Larimer Lounge, Denver, CO
Aug 31 Opalis Productions, Norman, OK
Aug 31 Guestroom Records – OKC, OK
Sep 01 Good Records, Dallas, TX
Sep 01 The Loft (TX), Dallas, TX
Sep 02 Mohawk, Austin, TX
Sep 02 Waterloo Records, Austin, TX
Sep 03 Walter's on Washington, Houston, TX
Sep 04 Spanish Moon, Baton Rouge, LA
Sep 05 Red Star Bar @ The Lyric, Oxford, MS
Sep 06 The Earl, Atlanta, GA
Sep 07 Grimeys, Nashville, TN
Sep 08 Exit/In, Nashville, TN
Sep 09 Square Room, Knoxville, TN
Sep 10 Local 506, Chapel Hill, NC
Sep 11 Black Cat, Washington, DC
Sep 12 Kung Fu Necktie, Philadelphia, PA
Sep 14 Music Hall of Williamsburg, Brooklyn, NY
Sep 15 T.T.The Bears, Cambridge, MA
Sep 16 Big Orbit's Soundlab, Buffalo, NY
Sep 17 Southgate House, Newport, KY
Sep 18 Zanzabar, Louisville, KY
Sep 19 Orpheum Stage Door, Madison, WI
Sep 20 Reckless Records (Wicker Park), Chicago, IL
Sep 20 Schubas, Chicago, IL
Sep 21 Schubas, Chicago, IL