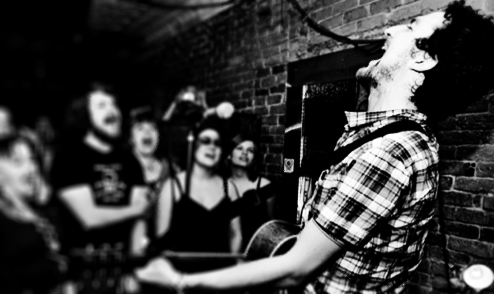 English punk turned folk singer-songwriter Frank Turner just released Poetry of the Deed, his third solo record. To celebrate the occasion, he sat down with us to talk Poetic Memory.
For a taste of Turner, check out this MP3 of "Front Crawl". He's also currently on tour, traveling everywhere from the midwest to the southwest. Dates are at the end of this post.
Poetic Memory is a regular Owl and Bear feature in which musicians disclose their influences—whether it's albums, songs, artists, or something random. If you're interested in being featured here, send us an email.
1. Bruce Springsteen – Born To Run: This is just the ultimate rock album, the standard by which all others should be judged. Musically and lyrically, it's very hard to beat. It has an epicness to it, a sense of purpose, a grandiosity of vision, that's just stunning. I often find myself thinking about how old Bruce was (25) when he made this, and feeling sad that I'm older and I haven't come close.
2. The Counting Crows – August & Everything After: My older sister got me into this record when it came out, and made me learn every song on it on the guitar, which was pretty much the first songs I learned how to play. So it's bound to have a special place in my heart. But as time goes by and I go back to it, I think it really is a phenomenal record, such exquisite songwriting. I still know every word and every song.
3. The Levellers – Levelling The Land: This is another album I was into when I was younger, though I kinda lost it for a long time. I recently toured with these guys and had a massive personal revival. I love the way they bring folk and punk together on this record, and they do it in such a quintessentially English way. Plus they did it many, many years before the current crop of bands towing that line (e.g. me). Pretty much every song is a hit.
4. Refused – The Shape Of Punk To Come: My old band (Million Dead) was named for a lyric on this album, and I think I may have listened to this more than any other single record. I'm not quite as convinced that it's the answer to every musical question as I was 10 years ago, but I do think it's hands down the best hardcore record that has or ever will get made.
5. Bob Dylan – The Times They Are A Changin': I am, weirdly enough, a late convert to Dylan. But now that I'm here, I'm 100% sold, particularly on his early stuff, when he was just trying to sing (rather than trying to sing like Bob Dylan). It's hard to choose an individual album, but I think this is as good as any of his first 5 records. He sounds ancient somehow, almost part of the landscape.
6. Weezer – Pinkerton: I love Weezer, and this is the ace in their pack for sure. It's the only record on which Cuomo let some real emotion bleed through into his songwriting, and it's a great record for it. The production is also probably my favorite of any rock album I own. It's a shame that they've effectively disowned it as an album, as I think it's their best.
7. The Lemonheads – Car Button Cloth: I learned about Evan Dando's music on the roof of a bar in North London, as a friend played me a bunch of their songs as the sun came up. Romantic. Amazing songwriting, so deceptively simple, and among a lot of word-play and borderline nonsense, he has a way of hitting on some real gems, home truths. The song "Something's Missing" should be an international megahit.
8. Nick Cave – Abbatoir Blues: When I listen to the song "There She Goes My Beautiful World" I have to stop what I'm doing, put it on repeat and pretty much cry myself to sleep. There's nothing close to it that I've heard in terms of talking about trying to be an artist. The man is a poet, head and shoulders above the competition. On this record I really feel that the Bad Seeds were at their peak, working with a gospel choir.
9. Bjork – Vespertine: Bjork is something else – I think she's stunningly original without being unlisteneable, which is one hell of a trick these days. I've been a Matmos fan for a long time too, so when I heard that they were producing an album for her I ran out and bought it, and I have to say it didn't disappoint. This album is so intense lyrically as well, so melodically mysterious.
10. Radiohead – Kid A: Radiohead should have an entry in any list like this, they're so obviously the best band in the world, haha. I bought this record when it came out, but I listened to it properly for the first time in Hong Kong airport on a stop-over on the way home from Vietnam, where I'd just broken up with my first long term girlfriend. It took me apart emotionally (it was actually quite embarrassing). The last song in particular broke me. I could have picked any one of their albums, but for that reason I'm going with this one. This is a word I try not to use too often, but they're utter genius.
Tourdates
10/1 – Garrick Centre – Winnipeg, MB (w/Gaslight Anthem)
10/3 – The Cabooze – Minneapolis – MN (w/Gaslight Anthem)
10/4 – Turner Hall – Milwaukee, WI (w/Gaslight Anthem)
10/6 – St. Andrews Hall – Detroit, MI (w/Gaslight Anthem)
11/9 – Beauty Bar – Las Vegas, NV (w/Revival Tour)
11/10 – The Sets – Tempe, AZ (w/Revival Tour)
11/11 – Launchpad – Albuquerque, NM (w/Revival Tour)
11/12 – Take 2 – El Paso, TX (w/Revival Tour)
11/13 – Red 7 – Austin, TX (w/Revival Tour)
11/14 – The Door/The Prophet Bar – Dallas, TX (w/Revival Tour)
11/15 – Juanita's Cantina Ballroom – Little Rock, AR (w/Revival Tour)
11/16 – Hi-Tone Café – Memphis, TN (w/Revival Tour)
11/17 – One Eyed Jacks – New Orleans, LA (w/Revival Tour)
11/18 – Bottletree Café – Birmingham, AL (w/Revival Tour)
11/19 – Masquerade/Hell Stage – Atlanta, GA (w/Revival Tour)
11/20 – Common Grounds – Gainseville, FL (w/Revival Tour)
11/21 – State Theatre – St. Petersburg, FL (w/Revival Tour)
11/22 – The Social – Orlando, FL (w/Revival Tour)