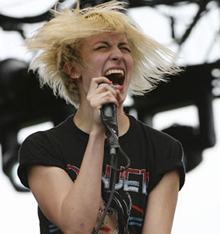 It's been over a year since ragtag teenaged punkers Be Your Own Pet parted ways, and they've been missed. Luckily, former front woman Jemina Pearl has just released her first solo album, the aptly titled Break It Up, to help fill the void. The album finds Pearl continuing to imbue her raucous pop ditties with refreshing doses of optimism and heart. Pearl has just released the video for album highlight "I Hate People", a duet with none other than James Newell Osterberg, Jr., aka Iggy Pop.
Unfortunately, Pop doesn't appear in the video—except in photographed form—but apparently less is more: Thurston Moore, to be exact. The Sonic Youth front man appears on Break It Up and costars in the video as a haplessly skittish coworker at Pearl's diner. Pearl and Moore previously collaborated on a cover of The Ramones' "Sheena is a Punk Rocker" for the edgy CW series Gossip Girl.
We've got the video for you, as well as Pearl's tour dates, after the jump. If you're lucky, she might spit on you during the show. I speak from personal experience when I say that being spit on by Jemina Pearl ain't so bad at all.
Tour Dates:
Oct 15 2009 Subterranean Chicago, Illinois
Oct 18 2009 Badlander Missoula, Montana
Oct 19 2009 Chop Suey Seattle, Washington
Oct 20 2009 Rickshaw Theatre Vancouver, British Columbia
Oct 21 2009 Hawthorne Theatre Portland, Oregon
Oct 22 2009 UC Davis The Old Fellows Lodge Davis, California
Oct 23 2009 Bottom of the Hill San Francisco, California
Oct 24 2009 The Troubadour West Hollywood, California
Oct 25 2009 Rhythm Room Phoenix, Arizona
Oct 27 2009 Mohawk Austin, Texas
Oct 28 2009 Rubber Gloves Denton, Texas
Oct 29 2009 Hi Tone Cafe Memphis, Tennessee
Oct 30 2009 Bottletree Cafe Birmingham, Alabama
Oct 31 2009 Lenny's Bar Atlanta, Georgia
Nov 1 2009 Duke Coffee House Durham, North Carolina
Nov 2 2009 G-Spot Baltimore, Maryland
Nov 3 2009 First Unitarian Church Philadelphia, Pennsylvania
Nov 4 2009 Middle East Downstairs Cambridge, Massachusetts
Nov 5 2009 Bowery Ballroom New York, New York
Nov 25 2009 Music Hall of Williamsburg Brooklyn, New York