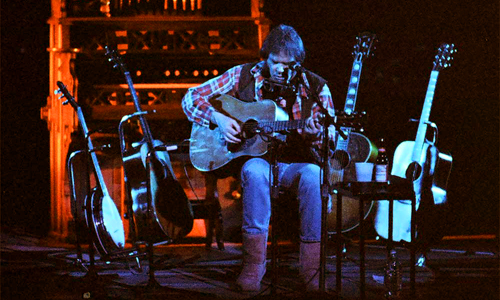 Neil Young has pioneered a lot of things, from grunge to Uggs (apparently, as evidenced above), so for better or worse, we always give him leeway to do what he wants. These days, his output has been, shall we say, spotty (see concept albums about biodiesel and hippie families), but believe it or not, there was a time when he still wrote entire good albums.
Take, for example, Harvest Moon; even if he was aging by rock standards, the songs are prime Neil and they'll take you back to sweeter days. Seems like record execs (and maybe Mr. Young himself) recognize this, so we'll soon be getting Dreamin' Man, a collection of Harvest Moon tracks recorded live before the album's 1992 release. Every song from Harvest Moon is there, although tracks have been rearranged to protect the innocent.
I'm looking forward to this. The title track, "Dreamin' Man" (stream), is mournful and lovely (shout-out to Club Med notwithstanding), and I'm excited to hear live renditions of the album's other songs, such as "One of These Days", (MP3) a recently rediscovered favorite of mine.
Dreamin' Man will be released December 8 on CD and January 12 on vinyl.  Those longing for Neil [even] Young[er] have reason to celebrate, too. Reprise has remastered his first four solo albums and will release them on CD and vinyl on November 23, just in time for Black Friday. You'll be able to pick up 140 gram vinyls individually, or you can splurge for the limited edition 180 gram box set for $150. Very tempting indeed. The time is now to drop hints to your loved ones.