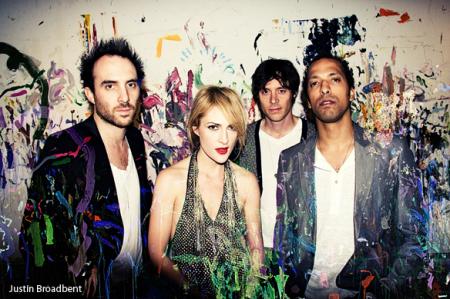 Canadian rockers Metric are bringing their densely textured mix of psychedelia and electro to a city near you. They are currently on a nationwide tour in support of their critically acclaimed release Fantasies. Since I am located in the O&B Pittsburgh office, I'll have the good fortune of witnessing the spectacle this Tuesday at Mr Small's Theatre in what promises to be a nice mid-week kick in the pants. So get out of your cubicle, grab a cold one, and let the rock 'n roll commence. The show starts at 8pm with Band of Skulls opening. Tickets are still available but going fast.
What's that, you want more? Well, they've also just released an EP entitled Plug In, Plug Out, which features acoustic versions of five Fantasies tracks. Have a listen:
And if you're not cool enough to live in the Pittsburgh area, don't worry, because they may be coming to a town near you. Tour dates are below.
November 20, 2009 – House Of Blues – Boston, MA
November 21, 2009 – Northern Lights – Clifton Park, NY
November 23, 2009 – Rams Head Live – Baltimore, MD
November 24, 2009 – Mr Small's Theatre – Pittsburgh, PA
November 25, 2009 – Electric Factory – Philadelphia, PA
November 27, 2009 – Neighborhood Theatre – Charlotte, NC
November 28, 2009 – Center Stage – Atlanta, GA
November 29, 2009 – Republic – New Orleans, LA
November 30, 2009 – Warehouse Live – Houston, TX
December 1, 2009 – La Zona Rosa – Austin, TX
December 2, 2009 – The Palladium Ballroom – Dallas, TX
December 3, 2009 – Midland Theatre – Kansas City, MO
December 5, 2009 – Cruzan Amphitheater – West Palm Beach, FL
December 6, 2009 – Ford Amphitheatre – Tampa, FL
December 8, 2009 – Crystal Ballroom – Portland, OR
December 11, 2009 – Oracle Arena – Oakland, CA
December 12, 2009 – Martini Ranch – Scottsdale, AZ
December 13, 2009 – University City, CA
December 15, 2009 – WaMu Theater – Seattle, WA