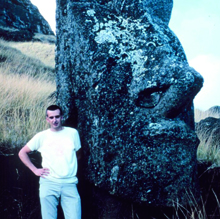 When The Paddle Boat first began to play shows in San Diego, no one knew quite what to make of them. Their hushed aesthetic tended to be too quiet for bars and their century-spanning influences too diverse for easy categorization, but the band nevertheless built a reputation as one of the city's finest live acts. Seasoned performers though they might be, the band's recorded output has until now been sparse, consisting of only the four songs from the self-titled EP they released earlier this year.
In its eleven brief minutes, the EP demonstrated that The Paddle Boat were able to flourish within the recorded idiom, utilizing savvy production to add dimension to their already rich sound. But it remained to be seen how the band would fare over the course of an entire album. Now, the group has released I Wonder if the Water Ever Tires of the Sea?, their full-length debut and the true test of whether The Paddle Boat can be as enthralling a recorded band as they are a live one.
Following a bizarre intro comprising spectral moaning and vinyl hiss, "Cotillian" sets the tone for the rest of the album. Jane Weibel's serpentine clarinet slithers around Jeremy Scott's ethereal vocals and atonal guitar, punctuated by moments of random chaos as the song gleefully deconstructs and rebuilds itself. "Airconditioned Nightmare" announces its arrival more forcefully, thanks to prominent vocals placed atop a swanky shuffle. "So glad you taught me to think that all this time I was doing it wrong", Scott sings on one of the album's many enigmatic exchanges. The meanings behind Scott's lyrics are frequently opaque, and the Lynchian compositions only amplify the air of mystery.
A consistently solid but at times elusive album, I Wonder is peppered with highlights that up the ante and reward the listener for braving the slippery tracks. "The Course" is the first such highlight, an immaculately executed gem of a song that abounds in memorable moments and inspired interludes. "Secret wishes always seem to come true even if you really didn't want them too / Wish them all away before they do", Scott warns. The track piles layer after layer on top of his entreaties, ramping up the intensity as it careens toward a cathartic, haunting finish.
The following track, "Crazy Horse Medallion", shines a much-deserved spotlight on Jane Weibel's top-shelf clarinet work. Equal parts vintage Tom Waits and Moroccan snake charmer, her instrument lends The Paddle Boat's songs an indispensable jazz club smokiness. "I'll never stray from you if you do exactly what I want you to all the time", Scott croons in typical wry fashion, backed by Weibel and Jackson Milgaten's solemn, increasingly ominous harmonies. The band cools things down on "Don't You Know", a tender, minimalist ballad anchored by its crestfallen lyrics and David Mead's start-and-stop percussion.
The album takes an unexpected but brilliant turn with its cover of Thom Yorke's "Atoms For Peace", which showcases the band's gorgeous three-part harmonies and accomplishes the unlikely feat of besting Yorke's version at every turn. "One Legs" is yet another standout, typifying the band's sound with its jazzy percussion, confident but subdued pacing, and airtight harmonizing. "Weddings" and "Happy Birthday Lucas" are reliably solid offerings, paving the way for the powerful one-two punch of the album's final tracks.
"Goodbye Rain" is a charming lullaby, made all the more memorable by its witty lyrics. The song's refrain of "Goodbye rain, goodbye, bye-bye / Reverse your ass and go back to the sky" is as catchy as it is amusing, and Scott's guitar lines slide around the neck with a lazy Sunday warmth that would make Santo & Johnny jealous. The album comes to a stunning and unexpected close with "Just Like A Good Girl Should", a sultry number that finds Weibel stealing the show with her lead vocal turn. Handing Weibel the microphone allows the rest of the band to tear into their respective instruments, gamely infusing the song with a feverish Latin flair. Everyone is in top form as Scott's fiery guitar work, Milgaten's sprawling bass lines, and Mead's expressive drumming guide the album in for a thrilling landing.
Thanks to its innovative songwriting and warm, flawless production—courtesy of Scott and Black Mamba's Keith Milgaten—I Wonder if the Water Ever Tires of the Sea? is a richly textured and immensely satisfying debut. Its flashier moments never feel excessive and its quieter moments never sacrifice momentum. From beginning to end, the album is a confident statement of purpose from a band comfortable in its own skin, unafraid to let their songs breathe and flourish. With I Wonder if the Water Ever Tires of the Sea?, The Paddle Boat don't just meet fan expectations for their debut, they raise them for their follow-up.
2009, Single Screen Records
Stream: "The Course" from I Wonder if the Water Ever Tires of the Sea?
[audio:paddleboat-thecourse.mp3]