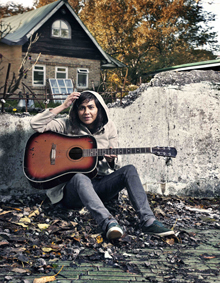 Welcome to Iceland Appreciation Day at Owl&Bear—or "Owl och Björn" in Swedish, which we assume sounds pretty close to Icelandic—where we spotlight up-and-coming musicians from the subpolar island country. Incidentally, Iceland boasts a population of 320,000 and its popular dishes include liver sausage and cured ram scrotum. You heard me.
Okay, it's not actually Iceland Appreciation Day, but we did just run a story on Seabear, so I figured I'd roll with it. Our next artist to be featured from the land of the great Strokkur geyser is Lovísa Elísabet Sigrúnardóttir, better known as Lay Low.
The Patsy Cline-inspired singer/songwriter has already developed an immense following in her homeland, claiming the country's top-selling original album last year with her debut, Please Don't Hate Me. Lay Low will be turning her sights on the US with the release of her new album, Farewell Good Night's Sleep, on March 9th, to be followed by an extensive tour.
With her engaging vocals and charming delivery, Lay Low channels Joanna Newsom, but without all the troublesome preciousness. She recently had one of her songs featured on Grey's Anatomy, and in 2008 iTunes labeled her one of the best discoveries of the year.
To see what all the fuss is about, look no further than the well-rounded video for "By and By", the first single off Farewell Good Night's Sleep. And if you like what you hear, you can download an MP3 of the song here. It's pretty impressive stuff, but what else would you expect from the home of the world-famous Iceland National Handball Team?
Farewell Good Night's Sleep Track List:
I Forget It's There
By and By
The Reason Why My Heart's in Misery
Last Time Around
On My Own
Farewell Good Night's Sleep
Why Do I Worry?
Days Have Been
Little by Little
My Second Hand Heart
The Country Ballad