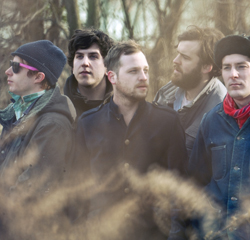 Philly indie rockers Dr. Dog have just completed their new album, entitled Shame, Shame.
It promises to be full of sunny melodies and tight-knit guitars, building on the band's already impressive body of work. Set to be released on April 6, Shame, Shame ought to be a nice little dose of good vibes just in time for Spring.
To help wet your Dog whistle, the band has made the first single, "Stranger" (MP3) available as a free download.
Dr. Dog will also be touring extensively throughout April and May. A San Diego stop is conspicuously — and, dare we say, shamefully — absent, but we'll just assume they'll add that date later. Tour dates are after the jump.
Dr. Dog tour dates
April 14 – Lee's Place – Toronto, ON
April 15 – Blind Pig – Ann Arbor, MI
April 16 – Metro – Chicago, IL
April 17 – Fine Line – Minneapolis, MN
April 19 – Belly Up – Aspen, CO
April 20 – Gothic Theatre – Denver, CO
April 22 – Neuolux – Boise, ID
April 23 – Wonder Ballroom – Portland, OR
April 24 – Great American Music Hall – San Francisco, CA
April 25 – Great American Music Hall – San Francisco, CA*
April 27 – Henry Fonda – Los Angeles, CA*
April 29 – Santa Fe Brewing Company – Santa Fe, NM*
April 30 – The Loft – Dallas, TX*
May 1 – Emo's Outside – Austin, TX*
May 2 – Warehouse Live Studio – Houston, TX*
May 3 – Majestic – Fayetteville, AR*
May 5 – Workplay – Birmingham, AL*
May 6 – Cannery Ballroom – Nashville, TN*
May 7 – Headliners – Louisville, KY*
May 11 – Paradise – Boston, MA*
May 12 – Paradise – Boston, MA*
May 13 – Electric Factory – Philadelphia, PA*
May 14 – 9:30 Club – Washington, DC*
May 15 – Terminal 5 – New York, NY*
* with Deer Tick