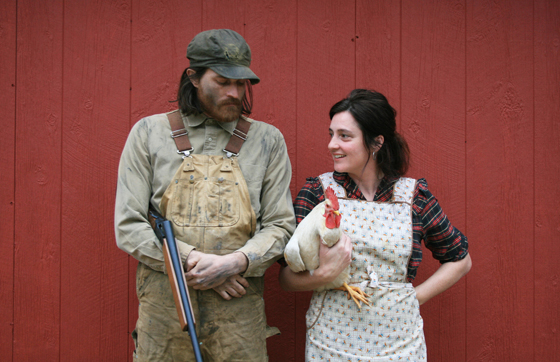 There's something cinematic about Holly Golightly and the Brokeoffs. It's not just that her music was prominently featured in Jim Jarmusch's Broken Flowers, or that the honey-voiced Golightly took her stage name from Audrey Hepburn's character in Breakfast at Tiffany's. There's just something in the songs' half country, half blues aesthetic that feels perfectly suited to scoring a movie.
Music and film fans alike can check out the film-ready songs on Tuesday, April 13th, when the British singer-songwriter brings her laid-back, folksy ballads to the Casbah. The show won't be her first encounter with San Diego; back in 1998, she guest starred on the song "Eye On You", by legendary local act Rocket From the Crypt.
Golightly and her one-man backing band, the Brokeoffs—the drummer/guitarist also known as Lawyer Dave—just released their third full-length, Medicine County, on March 30th. The album may not have a title as unforgettable as their debut, You Can't Buy a Gun When You're Crying, but what it does have are twelve quintessential Golightly tracks, each of them cool enough to be used in a Tarintino movie. Medicine County has been showered with flattery since its release, with the Onion AV Club, Wall Street Journal, and SPIN Magazine each singing its praises.
You can sample the album's first single, "Forget It," at Vanity Fair. If you like what you hear, you can head out to the Casbah show, where Holly Golightly and the Brokeoffs will be joined by the Creepy Creeps, Green Stamps, and DJ Claire. Filmmakers in the crowd may want to take notes.
Holly Golightly tour dates
Apr 13 2010 – The Casbah – San Diego, California
Apr 14 2010 – Spaceland – Los Angeles, California
Apr 16 2010 – The Blank Club – San Jose, California
Apr 17 2010 – Cafe Du Nord – San Francisco, California
Apr 19 2010 – Doug Fir Lounge – Portland, Oregon
Apr 20 2010 – Capitol Theatre Backstage – Olympia, Washington
Apr 21 2010 – Media Club – Vancouver, British Columbia
Apr 22 2010 – The Funhouse – Seattle, Washington
Apr 23 2010 – Red Room – Kennewick, Washington
Apr 24 2010 – BLVD *early show* – Spokane, Washington
Apr 25 2010 – Neurolux – Boise, Idaho
Apr 27 2010 – Hi Dive – Denver, Colorado
Apr 28 2010 – The Waiting Room – Omaha, Nebraska
Apr 29 2010 – The Record Bar – Kansas City, Missouri
Apr 30 2010 – The Firebird – St. Louis, Missouri
May 1 2010 – Hi-Tone Cafe – Memphis, Tennessee