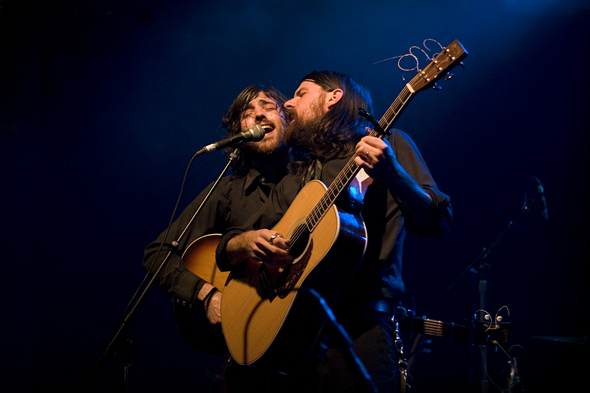 You don't have to be a fan of country music to like The Avett Brothers — you just have to be a fan of amazing music.
Scott and Seth Avett have been putting out albums for ten years — each one overflowing with the brothers' top-shelf blend of country, folk, bluegrass, and rock — but none of those albums were as rousing as last year's I and Love and You, their collaboration with Rick Rubin.
One of music's most celebrated producers, Rubin is best known for his his work with Johnny Cash on the six-volume American Recordings project, which stripped down Cash's sound and helped transform the country legend's final years into a creative renaissance.
Whereas Rubin's approach with Cash was one of methodical reduction, The Avett Brothers used the producer to opposite effect, beefing up their sound with sentimental piano and flourishing strings. The change in direction proved to be a wise choice; I and Love and You is one of the Avetts' best works to date, abounding in sweeping, cathartic moments while preserving their down-home charm.
You don't need to hear the album to get swept away by The Avett Brothers. The duo — along with bassist Bob Crawford and cellist Joe Kwon — are set to play San Diego's House of Blues on April 29th, and anyone who has seen them before can tell you that the show will be one that you can't afford to miss.
The Avetts are showmen of the highest caliber. They approach their audience with an aw-shucks Southern humility, then blow everyone away with their astounding musicianship. Through it all, they maintain a wit and affability that belies their music's emotionally charged overtones. The combination is a winning one, making an Avett Brothers show one of the most satisfying concert experiences around.
Tickets for the event can be purchased here, and you should get yours before it's too late. Unless, of course, you don't like amazing music.