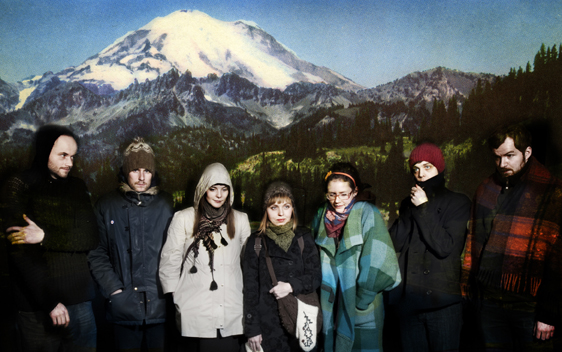 If you haven't had a chance to hear Seabear, drop everything and go purchase their new LP. Aptly titled We Built A Fire, it's the perfect album to keep you warm on a chilly night. With its lush arrangements and soothing vocals, you can't help but be whisked away to "Seabearia" on a wave of trumpets, strings, and pianos.
Sindri Már Sigfússon is the creative force behind the Icelandic band's beautiful melodies and heartfelt lyrics. He took some time out from mixing the new album for his solo project, Sin Fang Bous, to answer some questions for us.
Owl and Bear: For those who are not familiar with Seabear, how would you characterize your sound?
Sindri Már Sigfússon: I think it's kind of indie rock-y/pop on the new album. A little country too, probably.
Owl and Bear: In past interviews you have cited bands like R.E.M., Rage Against the Machine, and Metallica as influences. Can you please expound on the role that American music has played in shaping you as a musician?
Sindri Már Sigfússon: I guess I listened to those bands when i was 10-12 years old. As long as I can remember, my favorite musicians were from America, so I guess that had a lot of influence on me. My favorites when I was little were Michael Jackson and Prince. The first records I got for Christmas or my birthday were Michael Jackson's Bad, Prince's Batman soundtrack, and the Vanilla Ice record [To the Extreme]. I lived in Sweden when I was little and we had MTV so I followed all that stuff.
Owl and Bear: Your new album We Built A Fire arrived stateside in March. Do you have an American tour in the works? If so, will you be making a stop in San Diego?
Sindri Már Sigfússon: We already went on one East Coast tour and that was really fun. We're planning a trip to the West Coast in the fall/winter and then I hope we can stop by San Diego.
Owl and Bear: Have you been to San Diego?
Sindri Már Sigfússon: No, I don't think so. I went on one tour opening up for Múm as [Sin Fang Bous] but I don't think we went there. I've seen Anchorman lots of times though.
Owl and Bear: Being from Iceland, you guys have a definite winter vibe going on. What type of album would Seabear create if they lived and recorded in San Diego?
Sindri Már Sigfússon: Hehe, I'm not sure. Maybe it would be more laid back and would take longer to make as we'd be out in the sun all day.
Owl and Bear: Your solo project, Sin Fang Bous, is more experimental than Seabear. What does Sin Fang Bous mean, and are you going to be releasing anything else under that name?
Sindri Már Sigfússon: Sin Fang Bous is just gibberish. I'm actually sitting in the swimming pool studio right now mixing the new Sin Fang album. It will hopefully come out this year, and it's going to be under the name Sin Fang.
Owl and Bear: I'm always interested in hearing the artist's take on the state of music in general. Obviously the internet has completely changed how things work now. Can you talk about how you see the music industry and how technology relates to it?
Sindri Már Sigfússon: It's definitely easier to get your music out there, and it's amazing how close you can be to the people actually listening to the music through the Facebook- and MySpace-type websites. The problem with internet downloads is it's very hard for a band of our size to make it work financially. We've almost never gone on a tour that we didn't lose money on, and you can only do that for a certain amount of time. It used to be bands went on tour and they knew they were not going to make money on it but the record sales would go up. But that's not the case right now.
I think the internet service providers and the streaming websites (YouTube, MySpace, Last.fm etc.) should also pay royalties. Even if it's a small amount for each song played, it would make a huge difference for us. We have a few million plays if you put together the MySpace-YouTube-Last.fm thing. Fifty cents a play would pay for our next two albums!
Owl and Bear: Iceland's economy was rocked by financial crisis recently. Has the sociopolitical landscape changed there as a result? And, more specifically, how has it affected the vibrant music community?
Sindri Már Sigfússon: Well for me it hasn't changed that much. I'm also a visual artist and I'm used to not having much money to work with, but it's hard for people around me when they can't find jobs and the payments for their loans are just getting higher and higher. The music community in Iceland is very resilient and we're used to doing good stuff with little money. It's harder to get grants, though, which is a bad thing I guess.
Owl and Bear: If you could tour with any band, past or present, which band would that be and why?
Sindri Már Sigfússon: Hmm… I can name a few. Bruce Springsteen, Tom Waits, or Neil Young. Those are my teenage music heroes so i guess that's why I'd like to tour with them. We've also toured with a few of our Icelandic friends like Múm, Borko, and Hudson Wayne, and that's also great fun.
Owl and Bear: Finally, can you please officially grant Owl and Bear citizenship to Seabearia? We applied and I think the applications were lost in the mail or something.
Sindri Már Sigfússon: Yes, you are hereby granted an honorary citizenship to Seabearia!
Seabear tour dates
Apr 30 2010 – Posten – Odense
May 1 2010 – Templet – Lyngby
May 3 2010 – Mejeriet Cafe – Lund
May 4 2010 – Pusterviksbaren – Gothenburg
May 5 2010 – Debasser Slussen – Stockholm
May 6 2010 – Voxhall – Aarhus
May 8 2010 – Untergrund – Bochum
May 9 2010 – Gebäude 9 – Cologne/Köln
May 10 2010 – Bitterzoet – Amsterdam
May 11 2010 – Cafe Video – Gent
May 12 2010 – Le Nuits de Botanique/Botanique – Brussel
May 13 2010 – Roepaen – Ottersum
May 14 2010 – Exit07 – Luxembourg
May 15 2010 – Great Escape Festival @ Terraces – Brighton
May 16 2010 – Brudenell – Leeds
May 17 2010 – Garage – London
May 18 2010 – Start The Bus – Bristol
May 19 2010 – Spanky Van Dyke's – Nottingham
May 20 2010 – Point Ephemere – Paris
May 21 2010 – Grand Mix (w. Lali Puna) – Tourcoing
May 22 2010 – Ekko – Utrecht
Jul 9 2010 – Iðnó – Reykjavik
Aug 13 2010 – Les Doux Vendredis d'auot – Namur
Aug 14 2010 – Dockville Festival – Hamburg
Aug 15 2010 РSommerscen Festival РMalm̦