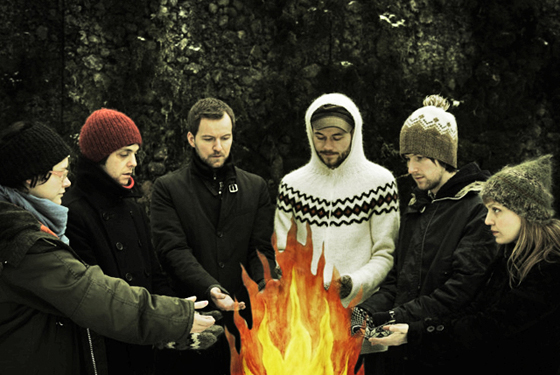 MP3: Seabear – "I'll Build You a Fire" (FM Belfast Remix)
Originally a solo project of Reykjavik native Sindri Már Sigfússon, Seabear eventually gained six members and international acclaim.
In 2007, the band released its debut LP, The Ghost That Carried Us Away, and its second album, We Built A Fire, on March 5 of this year.
The group, often compared to Arcade Fire and Sufjan Stevens, became a big name in Europe after their song "Cat Piano" appeared in a BBC commercial. Other Seabear songs have been featured in the respectively terrible and awful TV shows Gossip Girl and Gray's Anatomy, but don't let association with those painful melodramas drive you away from the Casbah next week. Their performance at this year's South by Southwest left many festival-goers raving, and their show on 10/27 should please San Diegans just the same.
The members of Seabear are also all-around good people; they just filmed a live performance in Reykjavik to help their struggling country after recent catastrophes like volcanic eruption and economic collapse. If you'd like a taste of what their Casbah show might offer, check out the below video. (Note: though Sigfússon is singing in Icelandic here, most of their songs are in English.
Seabear will play the Casbah on October 27. Get your tickets here.
Seabear tour dates
10/26 – Troubadour – Los Angeles, CA
10/27 – Casbah – San Diego, CA
11/20 – The Banhof Berlin Festival – Bruges, Belgium
11/21 – Bitterzoet – Amsterdam, Netherlands
11/23 – Lido – Berlin, Germany
11/24 – Pod Minoga – Poznan, Poland
11/25 – Firlej – Wroclaw, Poland
11/26 – Cafe Kulturalna – Warsaw, Poland